Today's guest review and giveaway comes from the fabulous Margie at Bumbles and Fairy Tales, who is sharing her thoughts on Neil Gaiman's The Sleeper and the Spindle. As with just about every book by Gaiman, this one looks gorgeous and is on my list of things to eventually pick up and fall in love with... Check out Margie's thoughts below, enter to win, and chat with us in the comments!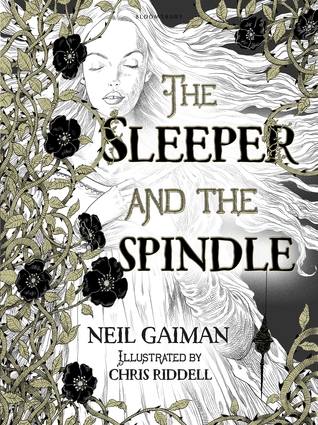 The Sleeper and the Spindle
by Neil Gaiman
Get It
|
Add It
68 pages
Published October 23rd 2014 by Bloomsbury Publishing Plc
A thrillingly reimagined fairy tale from the truly magical combination of author Neil Gaiman and illustrator Chris Riddell – weaving together a sort-of Snow White and an almost Sleeping Beauty with a thread of dark magic, which will hold readers spellbound from start to finish.

On the eve of her wedding, a young queen sets out to rescue a princess from an enchantment. She casts aside her fine wedding clothes, takes her chain mail and her sword and follows her brave dwarf retainers into the tunnels under the mountain towards the sleeping kingdom. This queen will decide her own future – and the princess who needs rescuing is not quite what she seems. Twisting together the familiar and the new, this perfectly delicious, captivating and darkly funny tale shows its creators at the peak of their talents.

Lavishly produced, packed with glorious Chris Riddell illustrations enhanced with metallic ink, this is a spectacular and magical gift.
Only an inventive and astute mind can create a new fairytale out of two very much loved fairytales; combined with a magical artisan, the story is sure to take on a life all on its own...
THE SLEEPER AND THE SPINDLE is an enchanting retelling of both Snow White and Sleeping Beauty. The author took the most memorable, pivotal and historical parts of each story and weaved a new one full of magic, wonder and intriguing new characters.
Our Snow White is a warrior who is being forced to marry in order to keep her Queen status. However, news of a curse gone awry forces the Queen to skip her nuptials and go on a long journey to find what the curse is and how to stop it.
Flanked by some not-so-merry men, the Queen encounters zombie-like obstacles before making a few discoveries and reaching her destination. There, she finds an elderly woman with a tragic tale. And a Sleeping Beauty who is full of cunning surprises and shocking revelations.
And in the end, the Queen makes the most startling choices... and will she go back to her kingdom and remain their queen?
Neil Gaiman does not disappoint, he continues to enchant me with his creepy style and unsettling twists. Chris Riddell's illustrations only enhances the eeriness and heightened my imagination, bringing the characters to life in a way that made me stare at the pictures to be sure that they weren't real, or moving... I wish to say more, but I fear two things: one, it may be spoilery; and two, that those things will come to haunt me in my sleep.
As you can see by the book's stunning cover, the illustrations are fascinating and, like I mentioned, they will capture your attention and you will have a hard time looking away. You will be forced to stare and study them, they are gorgeous, it will be hard to look away.
THE SLEEPER AND THE SPINDLE is simply beautiful - swift, grim and mesmerizing. Both the author and the illustrator will leave you in a stupor wanting more. I highly recommend this not only to those who are enthralled with fairytales, but for those who are looking for something different to escape into for a little while... unless you find yourself enchanted by their spell.
You have been warned.
~ Margie
****GIVEAWAY****
To celebrate Fairy Tale Fortnight, Margie has offered up a copy of
The Sleeper and the Spindle
to one lucky FTF reader! And she has a question for you:
What two fairy tales would YOU like to see combined into a retelling?
This giveaway is INTERNATIONAL* and is open until April 2nd at midnight EST.
To enter, make sure you are registered on the
FTF giveaway registry
, and then fill out the Rafflecopter form below.
Good luck!
*so long as Book Depository ships to your country.
a Rafflecopter giveaway