Don't forget, we've got a Fairy Tale Fortnight giveaway of this book going on right now! Make sure to stop by and enter, or comment on this review & earn extra entires!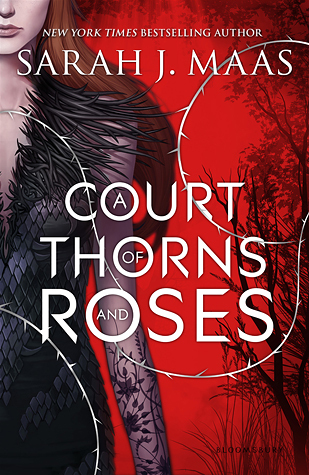 A Court of Thorns and Roses
by Sarah J. Maas
Get It
|
Add It
Fantasy, 416 pages
Expected publication: May 5th 2015 by Bloomsbury Children's
A thrilling, seductive new series from New York Times bestselling author Sarah J. Maas, blending Beauty and the Beast with faerie lore.

When nineteen-year-old huntress Feyre kills a wolf in the woods, a beast-like creature arrives to demand retribution for it. Dragged to a treacherous magical land she only knows about from legends, Feyre discovers that her captor is not an animal, but Tamlin—one of the lethal, immortal faeries who once ruled their world.

As she dwells on his estate, her feelings for Tamlin transform from icy hostility into a fiery passion that burns through every lie and warning she's been told about the beautiful, dangerous world of the Fae. But an ancient, wicked shadow grows over the faerie lands, and Feyre must find a way to stop it . . . or doom Tamlin—and his world—forever.

Perfect for fans of Kristin Cashore and George R. R. Martin, this first book in a sexy and action-packed new series is impossible to put down!
I've mentioned a few times that I've been in a strange reading funk for months now, where I'm really struggling to concentrate on what I'm reading, and stick to one book.
It's a pretty serious case of Ooh, Shiny Syndrome
, so even when I've been really enjoying a book, I've found myself setting it down in favor of giving something else a try (and then liking
that
, too, and yet putting it down for something shiny, in its turn). It's like some weird avid reader's-version of an auto-immune disease: my TBR is attacking itself*... Though there has been the
odd
book
that has broken through this happy-reader's malaise, they've been few and far between, and for the love of all things bookishly holy, praise pen-and-ink, this was one of them.
I fell into this story, face-first and whole-heartedly. It's likely a case of the right book at the right time, and who knows how I'd feel about it years down the line, but right now, it gave me exactly what I needed; I'd read it before falling asleep at night, and pick it up again first thing in the morning. The story and the writing flow beautifully, and it has a cast and world I connected to and wanted to explore. I liked basically all of the characters (good, bad, and indifferent), and how they interacted with each other, and I liked that in nearly all of them, there was gray area to explore. They very rarely fall into the trap of being perfect (and perfectly boring), and characters that you think are probably going to stay one dimensional
don't
—they are explored and become dynamic as Feyre herself grows and learns more about herself and how to let people in and see them for who they really are. I'm VERY eager to see what becomes of some characters in particular, in future books (Rhys, and surprisingly, Nesta, spring to mind), and I may have already begun calculating the days until ARCs of book 2 are likely to become available...
That's not to say it's wholly without flaws (is there such a thing?); it's a little too on the nose where the curse is concerned, for instance. It's all laid out
very
specifically, which makes it seem contrived (and also makes me question the relationship more than I'd have liked to), and I find that in general, curses and prophesies that are a little more ambiguous in their terms tend to lead to more nuance and interesting interpretations, and more general believability, when they come into play. But things like this (which were minimal and infrequent, honestly), are very much outweighed by the things this book got right. To that end, I love love love LOVE how sexuality is dealt with in this. I always hesitate to talk about presentations of sex being "empowering" because it can sometimes sound belittling and just sort... I don't know, of over the top, I guess? But I really can't think of a better descriptor for Feyre's relationship with sex, and Maas' presentation of it. Feyre is fully comfortable with herself, sexually, and the entire approoach is very mature and thought out without taking away any of the sizzle — and sizzle it does, in doses, but without every sliding into being cheesy or tawdry. The relationship is built believably, and Feyre's sexuality is natural and VERY well done, feminist in the best way. I was consistently happy with how the entire thing played out, and how much agency Feyre has (another buzzword I hesitate to use), especially in a storyline such as this one. I really have to tip my hat (fun point of fact,
I am actually wearing a hat right now
) to Maas for this.

I thought the fairy tale inspiration was nicely handled, too. It's there, with lots of little easter eggs for those who are looking, but it's not heavy-handed, and doesn't overpower the story. It remains its own thing, a complete fantasy novel on its own, but with a sort of comfortingly familiar feel to it, as a result of being a retelling. Overall, there's really good balance to the story, both as something complete of itself, and as part of something larger; A Court of Thorns and Roses has a good story arc all its own, but also good build up for what's in store for the rest of the series. It left me satisfied, but also wanting more, which is exactly what a book should do — it's basically just well done and thoroughly enjoyable from start to finish, and I'm eager to see where it goes!
*I should not have to clarify this, but it's the internet, so I feel like I'm probably going to have to: This is a silly, hyperblic comparison, some may even go so far as to call it a joke, and no it is not meant to make light of those who have autoimmune diseases. Or those who've literally had their to-be-read piles turn on them and attack them. [moment of silence] Many papercuts were had that day.