Hey, I know a lot of you were curious about REBEL OF THE SANDS, and after seeing the strong and opposite reactions on Goodreads, I can understand why! But I sorta loved it, so let me tell you all about that... =D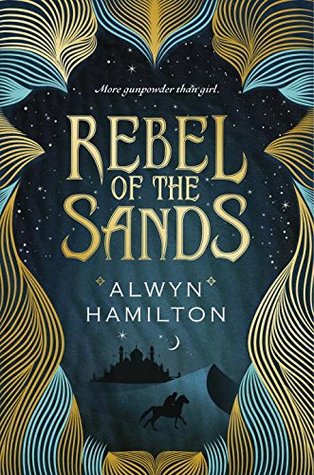 REBEL OF THE SANDS by Alwyn Hamilton
Get It
|
Add It
Fantasy, 314 pages
Published March 8th 2016 by Viking Books for Young Readers
Mortals rule the desert nation of Miraji, but mythical beasts still roam the wild and remote areas, and rumor has it that somewhere, djinn still perform their magic. For humans, it's an unforgiving place, especially if you're poor, orphaned, or female.

Amani Al'Hiza is all three. She's a gifted gunslinger with perfect aim, but she can't shoot her way out of Dustwalk, the back-country town where she's destined to wind up wed or dead.

Then she meets Jin, a rakish foreigner, in a shooting contest, and sees him as the perfect escape route. But though she's spent years dreaming of leaving Dustwalk, she never imagined she'd gallop away on mythical horse—or that it would take a foreign fugitive to show her the heart of the desert she thought she knew.

Rebel of the Sands reveals what happens when a dream deferred explodes—in the fires of rebellion, of romantic passion, and the all-consuming inferno of a girl finally, at long last, embracing her power.
For some reason, this book doesn't have an embedable excerpt yet, but you can read it directly
here
.
Disclosure: This is NOT a sponsored video, but I was given a review copy of the book and invited (not required) to participate in a promo by the publisher to celebrate its release.