Next week, you'll be seeing a vlog with my thoughts on Skandal, the sequel to Lindsay Smith's Sekret, which some of you may recall, I loved. (I was even part of the street team!) But until then, Lindsay sat down to chat with me about the book and what's on the horizon, and to give YOU a chance to get your hands on a copy! Check out our chat below, and then make sure to enter to win!
Hi, Lindsay! Welcome back to The Book Rat! Alright, let's get down to business...
Your book in a tweet: Skandal in 140 characters or less:
1960s Washington not what Russian psychic defector Yulia expects; new and powerful psychic sickness even worse than she fears.
For the Sekret Street Team Tumblr Takeover (which is what I call it in my mind, apparently), the bloggers on your street team made bits of fan art, playlists, or in my case, weird watercolors and propaganda posters... I would imagine it's a bit of a heady experience, seeing your world through others' eyes like that. Between the street team, general reviews, and fans you've talked to since Sekret debuted, did anything stand out to you, in the things people came up with or the way the answered the prompts, or how people have responded to the characters/world?
I was so amazed by the creativity and passion in the Street Team works! Seriously, it was like the rush of seeing my book in stores for the first time magnified a hundredfold. I loved all the graphics people put together with nice creepy espionage, Soviet, and romantic images, and I also loved the playlists they put together—music is such an important part of Yulia's world, and the mixes of modern and classical music were awesome.
I'm always so happy when people tell me how much they admired Yulia and Valentin and their character arcs. Yulia's not an easy heroine to like—she's stubborn, even to her detriment at times, and paranoid and fatalistic—but I'm proud of her growth.
And following up to that, has any of it made you see your characters and world in a different light? Did you start to see things you didn't even realize were there, now that the book is being filtered through so many different people's perceptions?
I've had a lot of people ask me where they should start if they wanted to get into classic Russian literature! I know many readers found Yulia's fatalistic view somewhat overwhelming, which is understandable, but I can't say I'd recommend Dostoevsky or Akhmatova to those readers, as they're even more soul-crushing. ;) But there's some great Russian sci-fi and fantasy being written today—I personally like the Dyachenkos and Inna Shargorodskaya.
If you could have abilities like Yulia or one of the characters in the book, would you choose to? And what would you most want to be able to do? Least?
I think Sergei's and Marylou's "remote viewing" ability has the potential to be the least intrusive; I'd totally use it to watch concerts half the world away or go sightseeing in, like, the Himalayans. In
Skandal
, I explore the pyrokinetics a little more, and their ability could be incredibly dangerous, but how fun would it be to start a campfire wherever you needed one, or extinguish fire where it
shouldn't
be? I'd least want the scrubbers' ability: the ability to change people's thoughts and control them against their will. I can't immediately think of any 100% ethical applications for that.
Music has been a huge part of the story, both because the style of music was undergoing an upheaval during the time period of the book, and because of the way Yulia and Valentin connect to music (and use it as a shield). Could we get a playlist of songs that are meaningful to one of the characters, or to the book itself?
You got it! Some of these are songs that are mentioned in the books, while some are just songs I liked to listen to while writing (including a few that obviously didn't exist in Yulia's time):
And with Skandal finished and out, what's next on the horizon?
I actually have another book releasing later this year, also from Macmillan Kids!
Dreamstrider
is a standalone high fantasy book, about a girl who has to manipulate the dream world to save her real world from a nightmarish war. We recently revealed the cover, which, in my completely biased opinion, is just
stunning
. I can't wait to share this book with the world.
****GIVEAWAY****
To celebrate the release of Skandal, the awesome folks at Macmillan have offered up a copy of the book to one lucky read in the US or Canada! To enter, leave some love for Lindsay in the comments, and fill out the Rafflecopter below! Ends April 23rd at midnight, EST.
Good luck!
a Rafflecopter giveaway
ABOUT THE BOOK: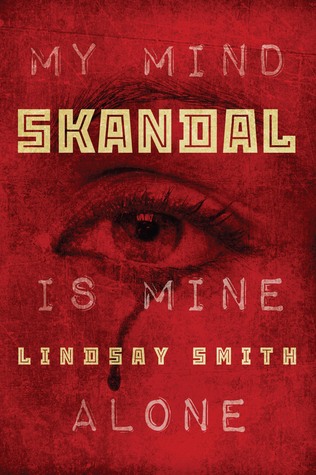 Skandal
by Lindsay Smith
Get It
|
Add It
336 pages
Published April 7th 2015 by Roaring Brook Press
The dramatic sequel to Sekret, this psychic Cold War espionage thriller follows Yulia to Washington, DC, where she fights to discover the truth about her family without losing control of her mind.
My mind is mine alone.
Life in Washington, D.C., is not the safe haven Yulia hoped for when she risked everything to flee communist Russia. Her father is reckless and aloof, and Valentin is distant and haunted by his past. Her mother is being targeted by the CIA and the US government is suspicious of Yulia's allegiance. And when super-psychics start turning up in the US capitol, it seems that even Rostov is still a threat. Ultimately, Yulia must keep control of her own mind to save the people she loves and avoid an international Skandal.
ABOUT THE AUTHOR:
Lindsay Smith
's love of Russian culture has taken her to Moscow, Saint Petersburg, and a reindeer festival in the middle of Siberia. She lives in Washington, DC, where she writes on foreign affairs. SEKRET is her first novel.
---
Author Links/Info
Learn more about the first book in the duology, Sekret.
Join in on social media with #Skandal.
Full Blog Tour Schedule