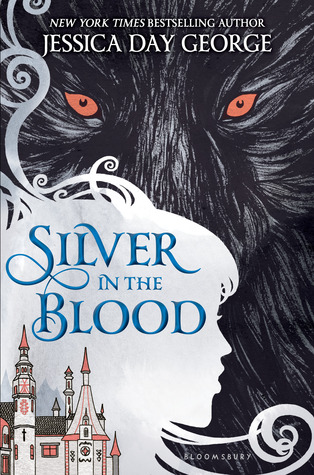 I had really wanted to review this for you guys for FTF, but unfortunately, it (and a few other books) got here just before the event started, which didn't leave me enough time to read them all, try as I might (and I did try!). But because this one comes out the last of all of the books I'd planned to review (July!), I had to save it for last, and my superhuman reading skills failed me. I have started on this one, and I DO intend to review it for you, closer to its release, but until then I'm going to share my First Impressions with you, as well as an excerpt, so you can get a taste of the book yourself!
Check those out below, and then make sure to enter to win a copy for yourself! And keep an eye out for my full review of
Silver in the Blood
this summer!
26 April 1897
Dearest Lou,
Whoever said that travel was exotic and full of adventure clearly has not sailed on the White Lady. Before you worry yourself sick that I am sitting in some squallid cabin, suffering from seasickness, fear not! Of course it is all that is respectable and luxurious, and I would never do something so horribly undignified as become seasick. Fear, rather, that I, your dearest cousin and bosom companion since infancy, shall die of boredom before the trip is even halfway through! I do not know why Papa would not let me take the train from London. I could have stopped in Paris and waited for you, and we could have made our way to Bucharest together. The Orient Express is all that is fashionable.
But my mother was adamant that I avoid Paris at all costs. I am to be punished until the end of time for one moment of frivolity! She couldn't possibly know that William Carver is spending the summer in Paris, could she? I certainly didn't tell her! I have been dying to see Paris, and I could have gone shopping with you besides!
Aunt Kate reminds me endlessly that Bucharest is the Little Paris, and that should be good enough for me, but I disagree! Why limit myself to the 'Little Paris" when I can see the big one? And thus far there is nothing to see but ocean, and no shopping, and no Will Carver or any reasonable substitute. I am becoming most disagreeable. Aunt Kate is threatening to lock me in my cabin if I do not shake off my "mood," as she calls it. She has yet to see me in a true "mod," dare I say. Much more of this and I shall descend into a despair so black that no amount of elegant dinners in the dining room or walks along the ship's promenade to take the air will bring me out of it.
Unless, of course, we are attacked by piraes. Young, dashing pirates. Will Carver would look very handsome in pirate costume, don't you think, Lou? Oh, you are too far away to ask!
Dear Lou, the other thing is that I'm missing you! If you were here this would be far more bearable. I shall console myself that one of us shall see Paris—the real Paris— and that soon we shall be reunited! Even if it is in a strange place! And I shan't even be able to send this letter until we reach land, which I pray is soon.
Much, much love,
D
First Impressions:
As you can see, this is Victorian-set, semi-epistolary novel (not all of it is in letters; they are interspersed), and that's something we don't see a ton of these days! I for one am excited, because I love things that are different from everything else out there, and also things that take something old and give it new life!
The action and intrigue of the whole thing picks up pretty quickly from the start, which I'm glad of -- it's not drawn out, with a prim little story of a Victorian teenager, that then suddenly becomes something other. I have a feeling we're going to get the excitement and adventure both quickly and boldly, so I can't wait to truly dig in!
And of course, I'm a big fan of Jessica's, so I was already looking forward to this, but I'm also getting a touch of a Gail Carriger vibe, who is another author I love -- I think this could be something really fun and new in tone from Jessica, and I am very eager to see how it plays out!
Make sure to stop back by this summer for my full review of
Silver in the Blood
, before its July release date. But until then, please to enjoy this...
****GIVEAWAY****
The awesome folks at Bloomsbury have offered up a copy of
Silver in the Blood
to one lucky Fairy Tale Fortnight reader!
This giveaway is US only, and ends April 22nd at midnight EST
To enter, make sure you are registered on the
FTF giveaway registry
, and then fill out the Rafflecopter form below.
Good luck!
a Rafflecopter giveaway
ABOUT THE BOOK:
Get It
|
Add It
Historical Fantasy, 358 pages
Expected publication: July 7th 2015 by Bloomsbury USA Childrens
A New York Times bestselling author brings dark secrets to life in a lush new YA perfect for fans of Libba Bray or Cassandra Clare.
Society girls from New York City circa 1890, Dacia and Lou never desired to know more about their lineage, instead preferring to gossip about the mysterious Romanian family that they barely knew. But upon turning seventeen, the girls must return to their homeland to meet their relatives, find proper husbands, and—most terrifyingly—learn the deep family secrets of The Claw, The Wing, and The Smoke. The Florescus, after all, are shape-shifters, and it is time for Dacia and Lou to fulfill the prophecy that demands their acceptance of this fate . . . or fight against this cruel inheritance with all their might.
With a gorgeous Romanian setting, stunning Parisian gowns, and dark brooding young men, readers will be swept up by this epic adventure of two girls in a battle for their lives.
ABOUT THE AUTHOR:
Are there more "authorly" pictures of JDG? Yes.
But do they have her bursting out of her own book,
overtop of a griffin? I didn't think so.
Jessica Day George
likes chocolate, knitting, books, travel, movies, dragons, horses, dogs, and her family. These are all things to keep in mind if you ever meet her. For instance, you could bring her chocolate to make the meeting go more smoothly. You could also talk about how adorable her children are, even if you have never seen them. You could discuss dog breeds (she had a Maltese named Pippin, and grew up with a poodle mix and a Brittany Spaniel). You could talk about Norway, and how it's the Greatest Place On Earth, and Germany, The Second Greatest Place On Earth. You could ask her about yarn, and indicate a willingness to learn to knit your own socks, if you can't already do so.
And, well, you could talk about books. Jessica's books, other people's books. It's really all about the books. To paraphrase Jerry Seinfeld: Friends, family, school, they were just obstacles in the way of getting more books.
She would like it if books came with chocolate to eat while reading them.