I know today is technically supposed to be a vlog day, but it will be going up tomorrow, so that you guys can see (and enter to win)...
You've already had one chance to win Tiffany Schmidt's crime family-meets-
The Princess and the Pea
retelling,
Hold Me Like a Breath
, when
I reviewed it for Fairy Tale Fortnight
(and
that giveaway is still going
for a couple of days, so if you haven't entered - do! Double your chances!)
But today the trailer has been released, and you're getting another chance to win a shiny new copy!
Check it out:
****TRAILER REVEAL GIVEAWAY****
To celebrate the reveal of the
Hold Me Like a Breath
trailer, Bloomsbury is giving away one (1) finished copy of
Hold Me Like A Breath
by Tiffany Schmidt! This giveaway is US Only, and ends Sunday, April 26th.
Fill out the Rafflecopter to enter!
a Rafflecopter giveaway
ABOUT THE BOOK: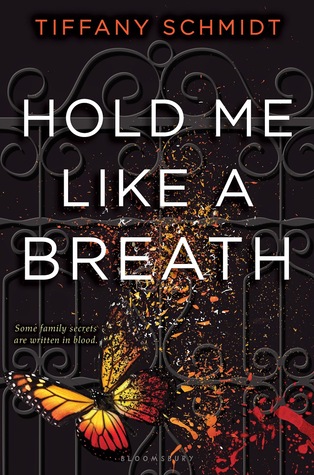 Hold Me Like a Breath
by Tiffany Schmidt
Get It
|
Add It
Contemporary, Fairy FindTale Retelling, 400 pages
Expected publication: May 19th 2015 by Bloomsbury
Penelope Landlow has grown up with the knowledge that almost anything can be bought or sold—including body parts. She's the daughter of one of the three crime families that control the black market for organ transplants.
Penelope's surrounded by all the suffocating privilege and protection her family can provide, but they can't protect her from the autoimmune disorder that causes her to bruise so easily.
And in her family's line of work no one can be safe forever.
All Penelope has ever wanted is freedom and independence. But when she's caught in the crossfire as rival families scramble for prominence, she learns that her wishes come with casualties, that betrayal hurts worse than bruises, that love is a risk worth taking . . . and maybe she's not as fragile as everyone thinks.
ABOUT THE AUTHOR:
Tiffany Schmidt
lives in Pennsylvania with her saintly husband, impish twin boys, and a pair of mischievous puggles. She's not at all superstitious... at least that's what she tells herself every Friday the thirteenth.
SEND ME A SIGN is her first novel. BRIGHT BEFORE SUNRISE will follow in Winter, 2014. The ONCE UPON A CRIME FAMILY series begins with HOLD ME LIKE A BREATH in 2015. You can find out more about her and her books at: TiffanySchmidt.com, TiffanySchmidtWrites.Tumblr.com or by following her on Twitter @TiffanySchmidt.
Find her on:
Other things to know:
This spring, Bloomsbury's sending four amazing authors—Trish Doller, A.C. Gaughen, Emery Lord, and Tiffany Schmidt—to bookstores together for our
Boldly Bookish
tour. To celebrate it, they are giving away some goodies! All you have to do is buy one of the following books: The Devil You Know, Lion Heart, The Start of Me and You and/or Hold Me Like A Breath and email your receipt to teensusa@bloomsbury.com, in order to receive one of the following prizes:
Preorder 1 of the books pictured above, and get a Boldly Bookish logo sticker.
Preorder 2 of the books pictured above, and get a sticker + a Boldly Bookish bookmark!
Preorder 3 of the books pictured above, and get a sticker + bookmark + a Boldly Bookish button!
Preorder all 4 of the books pictured above, and get a sticker + bookmark + button + a Boldly Bookishmagnet!
And remember, the more books you preorder, the more Boldly Bookish swag you get!
This giveaway brought to you as part of the Fantastic Flying Book Club