This is your FRIENDLY REMINDER that the #WednesdayYA discussion of the second of this year's Read Along picks,
Mr Darcy Broke My Heart
, will take place on Twitter
TOMORROW, WEDNESDAY THE 27TH AT 8:30 PM EST.
This is a SUPER quick read, so if you want to join us, you can
pick up a copy here
,and honestly, you could probably manage to read it in that time. If you've
already
read it or you're just curious what the discussion will bring, I sincerely hope you'll come chat with us, using the hashtag #WednesdayYA. Liz and I always have a lot of fun with you guys, and when you throw Austen into the mix! — well, let's just say,
I
.
Am
.
Ready
. (Charter,
don't fail me now
!)
Hope to see you there!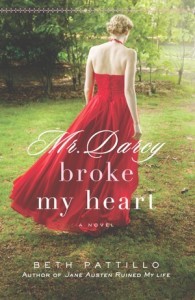 263 pages, Published February 1st 2010 by GuidepostsBooks
Claire Prescott is a sensible woman who believes in facts and figures, not fairy tales. But when she agrees to present a paper to a summer symposium at Oxford on her ailing sister's behalf, Claire finds herself thrown into an adventure with a gaggle of Jane Austen-loving women all on the lookout for their Mr. Darcy. Claire isn't looking for Mr. Anyone. She's been dating Neil -- a nice if a bit negligent -- sports fanatic. But when a tall, dark and dashing stranger crosses her path, will the staid Claire suddenly discover her inner romantic heroine? Her chance meeting with a mysterious woman who claims to have an early version of Austen's Pride and Prejudice -- in which Lizzie ends up with someone other than Fitzwilliam Darcy -- leads to an astounding discovery about the venerated author's own struggle to find the right hero for Lizzie Bennett. Neil's unexpected arrival in Oxford complicates Claire's journey to finding her own romantic lead.

Mr. Darcy Broke My Heart is the story of a woman who finds that love isn't logical and that a true hero can appear in the most unexpected of places.
Click the button or HERE to return to the Austen in August main page!