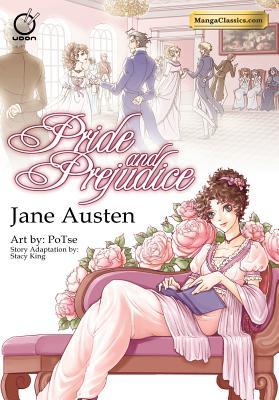 Today's guest review of the
very
recently released (as in, just a few days ago!) manga retelling of P&P comes from Kai of A Fiction State of Mind! Kai is a long-time contributor to Austen in August / Jane in June, and an ardent Janeite, as well as manga & graphic novel lover, so she's pretty much the perfect person to share this book with us.
Click through to see her thoughts on this one, and to share
yours
in the comments!
---
Review: Manga Classics: Pride & Prejudice by Stacy E. King and Po Tse
Happy August! Since discovering the Austen in August Events few years ago, I've loved planning what Austen themed reads I will immerse myself in for the month of August. When I heard of Udon Entertainment's Pride & Prejudice Manga adaptation I knew I had found my must read book for the 2014 event. When the fine folks at Netgalley offered this book as a digital download, I added it to my reader immediately!
The main draw to me for this book was the art. It was so much fun seeing Darcy, Elizabeth, Jane and Bingley in full manga form. I loved seeing the delicate facial features, wide expressive eyes, blushes and comedic chibi figures move through the story I, and many other fans know by heart. Tse's art is so stunning it leaps off the page, even in Black & White. So much detail is paid to the look and motion of the characters that they seem to glide across the page and through the landscapes.
Though a visual feast, the verbal portion of the story is solid as well. King follows the path of the novel with very few deviations. However the emotional impact of Austen's language is lost to some extent. This is to be expected in the manga process, which is why this book is a nice complement to those who have read the original novel beforehand.
This book is in the traditional Manga format, meaning it is read Right to Left. The book is over 300 pages, yet a very quick and enjoyable read. I hope you guys give this wonderful book a try.
~ Kai
Manga Classics: Pride & Prejudice
by Stacy E. King and Po Tse
Paperback, 376 pages
Published August 12th 2014 by Udon Entertainment
Beloved by millions the world over, Pride & Prejudice is delightfully transformed in this bold, new manga adaptation. All of the joy, heartache, and romance of Jane Austen's original, perfectly illuminated by the sumptuous art of manga-ka Po Tse, and faithfully adapted by Stacy E. King.
Click the button or HERE to return to the Austen in August main page!