You've been enjoying the fruits of
Austen Variations'
labors throughout Austen in August, so today we're going to talk to the ladies behind organizing this site and the awesome projects on it!
Click through to hear more about how Austen Variations came about and what they have in the works, and make sure to check out the pieces I've featured from
The Darcy Brothers
and
Persuasion 200
!
---
First, could you ladies tell us a bit about yourselves and what led you to banding together to create Austen Variations, the site, and your own particular variations, in general?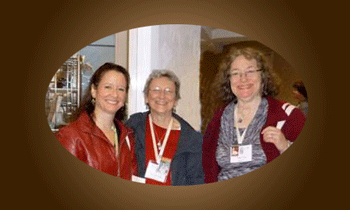 Austen Variations Admins: Maria Grace, Susan Mason-Milks and Abigail Reynolds
Thanks so much for having us Misty! It is such a pleasure for us—Maria Grace, Susan Mason-Milks and Abigail Reynolds—to talk about our site, Austen Variations.
As a group we are very willing to try new things. We went out on a limb and engaged in a huge experiment, a round-robin, reader's choice story called The Darcy Brothers, in which we asked 'what if Darcy had a younger brother…'. While we were working on that project, the idea really began to come together and Austen Variations was born.
Initially we planned it as a very small site, but far more writers than we expected joined. While we all write Austenesque works, the group covers the gambit from retellings to sequels to what-if variations that take Austen's characters into very different scenarios from Austen's original works.
The site features group projects, individual projects, excerpts and fun, interesting posts from our eighteen Austen Variations authors. We love reader input and have great conversations with our readers in the comments sections of each post.
You have a number of on-going projects featured on Austen Variations; what's it been like taking a more serialized (and very public) approach to storytelling, without the safety net of endless rounds of edits? Once you hit publish, it's there for the world to see in all its glory. Do you approach story telling differently as a result? Do you plan much more in advance, or fly by the seat of your collective pants? And how is the collaborative process?

Knowing you have less than a week to create a new chapter in the story is both scary and exhilarating. We've improved our writing skills and built confidence while gaining a few new grey hairs in the process. When we started The Darcy Brothers, we realized we had to have a basic idea about where the story was going in advance. As a result, we built a general outline but left room for the readers to make choices along the way. The most difficult times came when the readers voted one way, but the writer wanted to go another. A few sleepless nights came out of that as we tried to weave all the threads together.
The writers brainstormed the plot elements at various points along the way, which was one of the most exciting parts of the process. We did it by email primarily. Someone sent out idea or a question, then the responses started flying fast and fierce. Sometimes we've had dozens of emails in a day from the rest of the team as we all get excited about an idea and each of us build on each other's creativity. Authors usually don't get that much feedback during the developmental phases of our work, so it was a real treat. It was also challenging to negotiate how to work in competing ideas and visions.
What has reader response been like, either from general Austen fans, fellow contributors, or other Austenite authors who aren't involved in this particular project?
Putting our efforts in front of readers after all the rounds of negotiations and debate was a real nail biter for all of us, but our readers were absolutely wonderful! So encouraging and engaged in the story. Their energy was contagious and carried us through our weary moments and inspired us to write something far more ambitious than we had dreamed of.
Austen Variations would not be what it is without their input.
The Austen Variations team is fantastic, always ready to lend a hand, an ear, or shoulder, whatever is necessary at the time. Other authors in the Austen community have been wonderful as well, adding a delightful share to our conversations.
Austen Variations is also committed to the Austen community at large. We recently conducted a very successful fund raiser for the Jane Austen House Museum. It was very rewarding to have so much of community band together to support a cause we all find near and dear to our hearts.
And a follow up (or continuation, maybe) to that:
Austen Variations
is billed as "A Place for Writers and Readers to Connect" - how has reader interaction influenced your stories or styles?
As part of weekly The Darcy Brothers serial, we invited a couple of loyal fans to share their thoughts about the chapter following its posting. The fans' posts generated lots of comments and interest and showed us what the fans wanted. As a result of the feedback, we went back and added some scenes into The Darcy Brothers, which ended up improving the story significantly. More importantly, it seemed to please the readers that we'd listened to them.
One of the best features of Austen Variations is our Writer's Workshop. Authors post scenes, excerpts or even entire works in progress to solicit feedback from readers. While it is a little stressful to put works still in the rough out there, getting to hear what our readers have to say is invaluable.
Have there been collaborative stories that you find yourselves disagreeing on, or story lines you just don't want to tackle, for whatever reason?
Working together successfully requires communication and trust among the writers involved. When writing alone, an author pretty much gets to do whatever they want. When working with a group, compromises and negotiations abound. That can be difficult at times, but it forced us to consider new ideas and approaches that we wouldn't have ordinarily done. We came out of the experience stronger writers and a stronger team than we were before.
What's upcoming from Austen Variations? What do you have on the docket for the immediate future, and what would all of you like to tackle or bring to the table in the future?

We're in the middle a new project right now: Persuasion 200 (omitted scenes from Persuasion). I'm not sure who is having more fun, the readers or the writers as we get to look at the Elliots and their absurdities, as well as the inner lives of Anne and Wentworth.
Looking to the future, we're contemplating a sequel to The Darcy Brothers. After writing about Theo, the brother we invented for Darcy, we all fell completely in love with him and would like to tell the story of how he finds romance.
[Note from Misty: Judging by the response to the story here during AIA, I'd say readers will be quite happy with that!!]
Beyond that, we're discussing more serialized works from individual authors and author groups, excerpts from works in progress and a look at Jane Austen movie adaptations. We've just started thinking about our plans for 2015. With so many creative minds together, it's sure to be great for our readers.
If you'd like to get a taste of what Austen Variations is doing, watch this space for excerpts of The Darcy Brothers and Persuasion 200.
You can find us at AustenVariation.com, on Facebook and Twitter.
Click the button or HERE to return to the Austen in August main page!