For the last couple of years, I've hosted an Austen read-along, which I always look forward to (what with last year's
Mansfield Park
discussions getting
quite
heated at times, and all...). This year, Liz and I have decided to co-opt Austen in August with this month's #WednesdayYA pick! For those of you unfamiliar with
WYA
, Liz and I host a book club every month with the goal of reading through some of the (many, many) books we both own, and chatting with you guys about them while we do!
So this time 'round, rather than just announcing A book we'll be group-reading for AIA, I'm announcing TWO! And
I am excite.
So without further ado, our group reads for Austen In August / WednesdayYA are...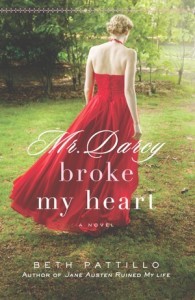 263 pages, Published February 1st 2010 by GuidepostsBooks
Claire Prescott is a sensible woman who believes in facts and figures, not fairy tales. But when she agrees to present a paper to a summer symposium at Oxford on her ailing sister's behalf, Claire finds herself thrown into an adventure with a gaggle of Jane Austen-loving women all on the lookout for their Mr. Darcy. Claire isn't looking for Mr. Anyone. She's been dating Neil -- a nice if a bit negligent -- sports fanatic. But when a tall, dark and dashing stranger crosses her path, will the staid Claire suddenly discover her inner romantic heroine? Her chance meeting with a mysterious woman who claims to have an early version of Austen's Pride and Prejudice -- in which Lizzie ends up with someone other than Fitzwilliam Darcy -- leads to an astounding discovery about the venerated author's own struggle to find the right hero for Lizzie Bennett. Neil's unexpected arrival in Oxford complicates Claire's journey to finding her own romantic lead.

Mr. Darcy Broke My Heart is the story of a woman who finds that love isn't logical and that a true hero can appear in the most unexpected of places.
Some of you may remember that
I really enjoyed Pattillo's Jane Austen Ruined My Life
, so I've been looking forward to this one — and not just because of that gorgeous cover. So if you want to join us, you can
pick up a copy here
, or you know, see if your library has it. Basically, get your hands on it and read it with us, so we can have a chat sesh! (And you can add it on Goodreads
here
.)
And of course, as some of you may have guessed would happen, since I've been not-so-subtly pushing it since the first read-along, this year's Austen pick is...
aka The One Everyone Loves to Hate On for Some Reason, Even Thought Its Pretty Much Perf.
While enjoying a six weeks' stay in fashionable Bath, the young and callow Catherine Morland is introduced to the delights of high society. Thanks to a new literary diet of the sensational and the macabre, Catherine travels to Northanger Abbey fully expecting to become embroiled in a Gothic adventure of intrigue and suspense and, once there, soon begins to form the most gruesome and improbable theories about the exploits of its occupants. An early work, but published posthumously, Northanger Abbey is a satire on the Gothic mode typified by the novels of Ann Radcliffe, as well as a witty comedy of manners in the style of Jane Austen's later novels and, ultimately, an enchanting love story.
And again, make sure you pick up a copy, 'cause I want to hear your thoughts and discuss this with you! I kid you not when I say that for a long time, I debated whether this was actually my favorite of Austen's work, and just the thought of reading it again makes me happy. (And I am so Team Tilney.
SO
.
TEAM
.
TILNEY
.)
You can grab a copy for FREE from a whole bunch of places, like any of these (
X
X
X
X
), or if you want a physical one, I'd lay money on it that your local used book store has a nice, battered, loved old copy kicking around. Or, if you want, you can
listen to this book
(again, totally free!).
I'll be posting the first set of questions for
Northanger
soon, and little tidbits on
Mr Darcy
on Wednesdays throughout the month, with our Twitter discussion happening on the last Wednesday, 8/27 at 8:30pm EST (hashtag #WednesdayYA). I really hope to see as many of you there as possible, and I can't wait to hear everyone's thoughts and opinions on both books!