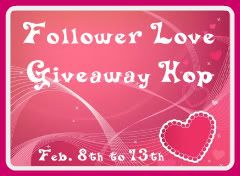 Alrighty, kittens ~ I'm pretty excited about this. I've only ever participated in 1 event similar to this (the 12 Blogs of Christmas, which was a super lot of fun), and I've been going back and forth on what to give away. I mean, I have an event going on right now -- should I tie the giveaway to the event? (Two birds, 1 stone)
But I decided, nahhhh. I've already got a contest going for that, so this should be it's own thing.
And because it seems to me the prize pool is getting pretty deep, I figured we should all just dive in there and see if we can't make a splash. Yeah?
Okay, so here's the what-nots:
Because this is a "follower love" giveaway, you must be a follower to win
Winner gets to pick any book from the prize pool. You can see the pretty, pretty pictures here, but there's also a full list at the bottom. (I tried to include a little something for everybody!)

Giveaway runs Feb 8th-13th

International!

Beyond being a follower, all you have to do to enter is

fill out this form

.
+1 for every time you link (leave them in the comments); +5 if you post
I would suggest leaving a comment so you know you entered, but this is purely optional.
I may have additional winners, so I would suggest leaving alternate picks in the form.
The list of possible books (click
here
to see the covers if you need help deciding!):
Angels on Sunset Boulevard, Melissa de la Cruz
Beautiful Darkness, Kami Garcia & Margaret Stohl
Beautiful Malice, Rebecca James
The Exorsistah, Claudia Mair Burney
Firespell, Chloe Neill
A Highlander's Temptation, Sue Ellen Wellfonder
Kill the Dead, Richard Kadrey
Lucan, Susan Kearney
The Marbury Lens, Andrew Smith
Mockingjay, Suzanne Collins
Monsters of Men, Patrick Ness
My Soul to Keep, Rachel Vincent
The Mysterious Benedict Society, Trenton Lee Stewart
Savvy, Ingrid Law
Shift, Rachel Vincent
Thirteen Orphans, Jane Lindskold
Up From the Blue, Susan Henderson
Vanishing, and Other Stories, Deborah Willis
Vestments, John Reimringer
Violence, 101, Denis Wright
Warbreaker, Brandon Sanderson
The Wrong Mother, Sophie Hannah
Also, while you're here, don't forget to enter my
$65 CSN GC giveaway
, or my
Love Bites Giveaway
!
Check out all the other great blogs on the Follower Love Giveaway Blog Hop!