Sometimes Twitter is a cesspit. I mean, it's no youtube comments section, but we all know the anonymity of the internet can bring out the worst in people. But sometimes... sometimes the soundbite set-up of Twitter, and the quick proliferation of all things funny makes Twitter the perfect environment to find something that hilarious, intriguing, or just so very
you
in such short form that you can't help but hit that retweet button.
And of course, there is no shortage of Janery to be found on Twitter. Here are some of my favorite bits that have been building up in my feed, inbox and bookmarks lately. Enjoy, and if you have any favorite Austenesque tweets or twitter accounts that you follow, let me know!
— Drunk Austen 🍹📚 (@Drunk_Austen) August 17, 2018
Just realized that since we read serial nineteenth-century novels only as whole books, we are basically bingewatching the nineteenth century.

— a monstruous regiment of women (@KHandozo) August 5, 2018
— Drunk Austen 🍹📚 (@Drunk_Austen) August 18, 2018
Mr Darcy: I have a total boner for you in spite of your gauche, plebeian family
Mr Darcy: and will stoop to marry you
Lizzie Bennet: wow cool, I feel so flattered
Mr Darcy: oh I'm so SORRY that my PERSONAL TRUTHS are hard for you, pardon ME for being a man who has FEELINGS

— Anne Thériault (@anne_theriault) August 14, 2018
Turns out, maybe if Darcy was alive today (and, erm, real) and active on the internet, he'd be kind of the worst. One of those dudebro douches. A douchebro.
I came across this from
Laurel Ann Nattress' @Austenprose
Twitter, and it. is. fabulous. [Created by
@WrongHands
]: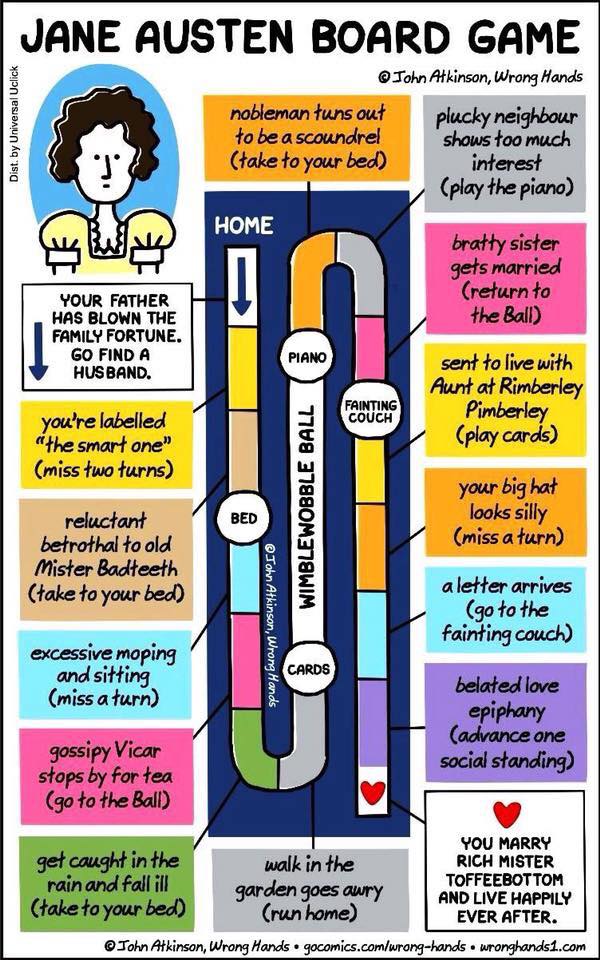 — Dave Kellett (@davekellett) August 20, 2018
When I read Jane Austen in my 20s I was like "I love this but it's bananas how long it takes people to say how they feel" and now I'm like "No this is correct, everyone should take multiple years, hundreds of letters and multiple supervised meetings before making any commitment."

— Heather Hogan (@theheatherhogan) August 12, 2018
Unpopular Austen Opinion: I am glad Fanny didn't marry Henry Crawford. He didn't deserve her. (No one in this book deserves Fanny Price.)

— Nancy Kelley (@Nancy_Kelley) August 18, 2018
Okay, this one's not so much funny, but I felt this tweet from Nancy Kelley (who is featured this year in AIA!) would be good to include for discussion purposes!
┻┳|
┳┻| psst! hey kid!
┻┳|
┳┻|
┻┳|
┳┻|
┻┳|
┳┻|
┻┳|
┳┻| _
┻┳| •.•) Netherfield Park has
┳┻|⊂ノ been let at last
┻┳|
┳┻|
┻┳|
┳┻| Don't you wish to know
┻┳| who has taken it?

— Drunk Austen 🍹📚 (@Drunk_Austen) August 3, 2018
As a bonus; I know this isn't directly Austen-related, and that it's Victorian, but I feel like a lot of you will be as amused by this as I was.
everybody out here wanting to marry a CEO or a senator and I just want to marry a Victorian-era factory owner who is kind to his employees and saves my brother from prison and slowly grows to love me.

— the library goblin (@BozeReads) August 19, 2018