I originally planned to do a round-up of recently released and upcoming JAFF, Austen sequels, Austen retellings, and Austen-adjacent books. But every time I sat down to write this post, I realized that I kept coming back to the same conclusion: for all of the interesting stuff that is being and will be published, there's only one upcoming book I'm laser-focused on right now.
So instead of a round-up, we're having more of a spotlight on one of the most intriguing — and one of
my
most anticipated — Austenesque books I've come across in some time...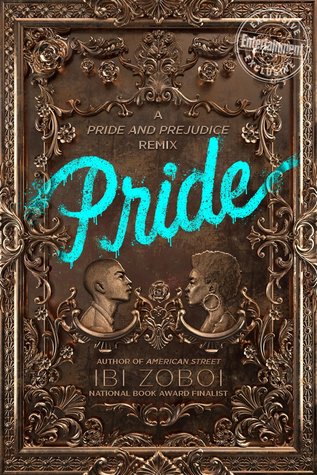 Pride
by Ibi Zoboi
Contemporary/Retelling, 304 pages
Expected publication: September 18th 2018 by Balzer + Bray
Zuri Benitez has pride. Brooklyn pride, family pride, and pride in her Afro-Latino roots. But pride might not be enough to save her rapidly gentrifying neighborhood from becoming unrecognizable.

When the wealthy Darcy family moves in across the street, Zuri wants nothing to do with their two teenage sons, even as her older sister, Janae, starts to fall for the charming Ainsley. She especially can't stand the judgmental and arrogant Darius. Yet as Zuri and Darius are forced to find common ground, their initial dislike shifts into an unexpected understanding.

But with four wild sisters pulling her in different directions, cute boy Warren vying for her attention, and college applications hovering on the horizon, Zuri fights to find her place in Bushwick's changing landscape, or lose it all.
To say I 'want' this book would be the understatement of the century. Is this one anyone else's radar? Are you as excited as I am? Let me know your thoughts in the comments, and if there's anything coming out soon, or recently released, that you think we should know about, tell us!