I'm doing things a little different this year. My goal is to have 2 posts each day, one at noon and one at midnight. Occasionally there will be three posts, but I'm trying hard not to be overwhelming, so I'm going to try my damnedest to stick to 2 per day. 2 posts per day means less fluff, but it also means less room for guest posts, so there are few of those this time around.
(Which is good, as very few people seemed to want to do one this year... Though that being said, I do have a few slots open, if anyone would like to guest post/giveaway.)
There is a
linky page
again this year for those of you who want to get involved in Helluva Halloween. Feel free to link up posts that you did on your own blog or channel.
There are giveaways this year (of course), but I'm going to try to keep them more streamlined. To that end, there are fewer of them and I have one master form for you to fill out that has your information. Then, to enter any particular giveaway, you just leave a comment on the post and don't have to fill out a form over and over for every giveaway you enter.
This is a sort of trial run to see how this goes over, so feedback is welcome. If you don't like doing a master form, let me know, though I have a feeling it's going to be less work and headache for all of us. :)
Lastly, many of you already know this, but this year I've decided to stray from scary and horror-like, which I feel like I've done and which I wasn't particularly in the mood for. Instead, the theme this year is supernatural/paranormal + quirky/oddball. I did my best to pick some books that I thought fit in with this category, but not having read them, of course I can't be sure. So if you're reading a review and you're like "What the eff does this have to do with Halloween?" well, in my mind it does and I hope that will suffice. ;)
(Also, just because it's the nature of blogging, I will have a few things pop up that are not HH related, though I will do my best to make them so...)
Anywho, on to the show: Below you'll find this year's button and the schedule of events. This will be updated often with new posts and links (though fair warning, I've been having trouble with both my internets and my computer, so..."often" is relative).
That's all for my spiel; hope you enjoy!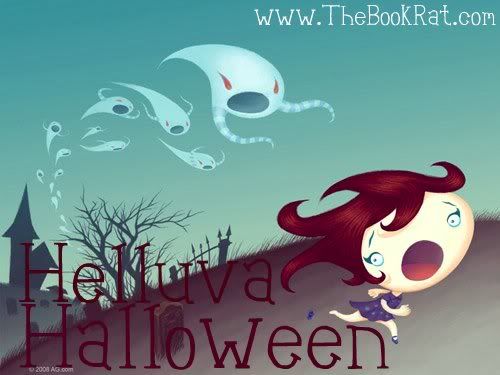 October 1st:
October 2nd:
October 3rd:
October 4th:
October 5th:
October 6th:
October 7th:
October 8th:
October 9th:
October 10th:
October 11th:
October 12th:
October 13th:
October 14th:
October 15th:
October 16th:
October 17th:
October 18th:
October 19th:
October 20th:
October 22nd:
October 23rd:
October 24th:
October 25th:
October 26th:
October 27th:
October 28th:
October 29th:
October 30th:
Review: Relations That Suck & La Femme Fatale
October 31st:
Giveaway: Destined (a House of Night novel) by P.C. & Kristin Cast
Excerpt: Putting Makeup on Dead People by Jen Violi
Review: The Mephisto Covenant by Trinity Faegen
Review: Miss Peregrine's Home for Peculiar Children by Ransom Riggs
The End.
Happy Halloween, my tender lumplings...