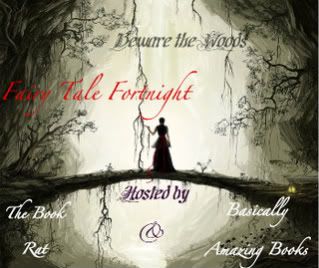 Is everyone else as excited for Fairy Tale Fortnight as I am?! It's going to be EPIC! And to prove it to you, to get you even more excited and to just share the general awesomeness, Ashley and I are opening up a giveaway today!
Donna Jo Napoli agreed to be a part of Fairy Tale Fortnight and has been absolutely wonderful to work with. She agreed to an interview (which is
awesome
and will go up next week) and she also agreed to a very generous giveaway.
So- What can you win? We have
5 signed and personalized
hardcovers of
Crazy Jack
to giveaway, which is a retelling of Jack and the Beanstalk and
10 signed and personalized
paperbacks of
The Great God Pan
, which is a retelling of a Greek Myth. Yup. You read that right.
15 books to giveaway
, which means 15 chances for you to take home an awesome signed and personalized book!
In order to enter this giveaway, Donna has asked that you tell her your favorite NON-European Fairy Tale. Just fill out the form below to enter! This is the
same
form that is found on Ashley's blog so
please
only enter once.
Although there is a place in the form for your favorite Non-European tale, we ask that you also
leave your answer in the comments section
. This will give you one additional entry, and is the
only
extra entry available.
Donna did ask us to open and close the giveaway early, because she will be leaving the country in the middle of the event and wanted to be sure she was able to get everyone their books before she leaves. Because of this, it will be mandatory that you leave your mailing address in the form below. Your address will be shared with no one, other than Donna if you win. But, there will not be time to email all 15 winners and wait 48 hours for a response because Donna will be leaving. If you don't include your address, your entry will be deleted.

The giveaway is international and will be open from now until April 18th at 11:59 PM, MST. I will draw the winners on April 19th. I will send an email to each winner, letting them know they won, as well as an email to Donna Jo containing all the winner's information.