For those of you who missed it, Liz and I had a liveshow once again for
last month's Legend discussion
(something we're going to continue, because we love how many of you drop in, and we really love that it allows people who aren't able to make it still participate); at the end of that liveshow, we held a blind voting for this month's pick! Basically, we each chose a book that we wanted to read, and we let you decide which it would be, BUT we didn't show you the covers or tell you the titles/authors. Instead, we each read a small excerpt from the beginning, and let you vote on which intrigued you most.
I said afterwards that I would have a hard time choosing between the two if I had to vote, and that turned out to be the case for those who votes, too: it was a tie. So after a coin-toss (via random.org), we have a winner, and that winner is...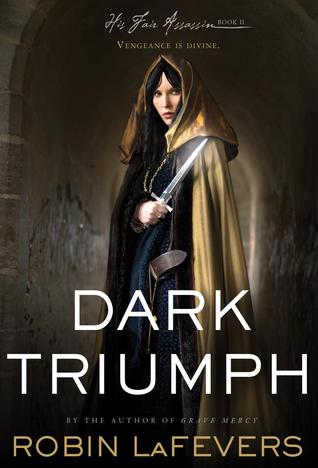 Dark Triumph
by Robin LaFevers
385 pages
Published April 2nd 2013 by Houghton Mifflin Books for Children
When Sybella arrived at the doorstep of St Mortain half mad with grief and despair the convent were only too happy to offer her refuge - but at a price. The sisters of this convent serve Death, and with Sybella naturally skilled in both the arts of death and seduction, she could become one of their most dangerous weapons.

But her assassin's skills are little comfort when the convent returns her to the life that nearly drove her mad. Her father's rage and brutality are terrifying, and her brother's love is equally monstrous. But when Sybella discovers an unexpected ally she discovers that a daughter of Death may find something other than vengeance to live for...
As I said, we'll be having a liveshow to discuss this book at the end of February, but this time it will be on my channel, BookRatMisty. But you can also follow along on Twitter, as always, with the hashtag #WednesdayYA. It will be held Wednesday, February 25th at 8:30 EST in both venues, and we'll tweet out the actual link to the live streaming discussion that night. So if you've read Dark Triumph or have been wanting to, we definitely hope you'll join us in discussing it at our liveshow!
***Reminder: This book is a
sequel
! If you have not already read
Grave Mercy
, you'll want to read that first! =D