"A Changeling is a little bomb dropped by Fairyland upon the human world for fun and profit."
I'm very pleased to be kicking off the
blog tour
for
The Boy Who Lost Fairyland
by Catherynne M. Valente today!
I've been an eager follower of this series from the beginning
, and though, as some of you know, I had a
weird reading funk
where the third book unfortunately got left by the wayside, I'm glad to say that with this new installment (one very different from the ones that came before it), I've fallen right back into Fairyland — or should I say,
out
of Fairyland, as it is invading our turf this time 'round!
I've decided to save my full review for this year's Fairy Tale Fortnight,
which I announced yesterday
, because these books are just too good a fit to not include, but until then, I thought I'd treat you to a little snippet of the book. This scene, just after the Red Wind has spirited away a little troll-boy named Hawthorne, to replace him as a Changeling with a human from our world, was the first scene to really make me excited. Now, there had been plenty of lines and turns of phrase before this point that charmed, tickled and delighted me, but this scene, when I realized that this new book meant that we'd get to see Valente turn her hand to bringing out the absurd and fantastical in our own world, brought a very big smile to my face.
I love a good whimsical created world, I truly do, but I think the thing I love even more is when that whimsy spills over into our own world, seeps into our history and our ways of life, and tints it all in rose-colored magic. I love the places your mind can go with the alternate universes's"new information," and I love seeing how real people and events shape the authors decisions, and then our world is reshaped by those decisions, and on and on in this intricate tangle of real and make-believe. It delights the child and the creative person in me, as well as the absurdist, and this scene let me know that
Fairyland
number 4 would give me that in abundance — at least
for a little while
...
Enjoy the excerpt below, and then enter to win a copy of
The Boy Who Lost Fairyland
for yourself!
And don't forget to stop back by during Fairy Tale Fortnight for my full review of the book!
from The Boy Who Lost Fairyland by Catherynne M. Valente. Quoted from an advance copy, so wording may not be final. Any typos likely mine (but I tried to catch them all!)
"PARCEL?" the creature barked thunderously.
"What is that?" whispered Hawthorn.
The Red Wind smiled slowly, her whole face filling up with wicked delight. "Why that, my excitable little emerald, is a human. I should get acquainted, if I were you. I daresay you'll be seeing more of them."
"Can I touch it?"
The human scowled. "I've never heard the like!" she snapped. "How would you like it if I asked to touch you?"
Hawthorn shrugged. "You can touch me if you want," he said softly. And reached up his hand.
The human narrowed her eyes. She puffed out her cheeks like a great fish. Then she gave a short, hard laugh like a stamp marking a form and touched his fingers with hers. Her skin was soft and warm. His was hard and cold as stone — but for a troll, as hard and cold as stone is just the warmest and most wonderful thing to be.
"Pleased to meet you," said the human. "I am the Postmaster General for the Commonwealth of Australia. You may call me Mr. Benjamin Franklin. Everyone does."
"You don't look like a Mr. Benjamin," Hawthorn ventured.
The Postmaster General shuffled several envelopes together and tied them with twine before chucking them behind her into a large canvas bin.
"Long ago," the Red Wind explained, "a wizard called Benjamin Franklin became so powerful, by means of a magical lightning-wand and an excellent wig and a fell familiar in the shape of a kite, that he was made Postmaster of a vast kingdom. Using his monstrous magics, he, the kite, and the wig founded the Grand Society of the Golden Postilion, of which all Postmasters are members. That is why they are called Masters, you know. Each and every one of them is a great Master of Questing Physicks. How else could a magical sword find its way to the bottom of a lake just in time for a little baby kinglet to wander by? Or a coat of many colors to a shepherd's shoulders, or a spinning wheel to a locked and hidden room, or a girl in the shell of a hazelnut to an elderly couple longing for children? The Post is how the end of a story gets shipped safely to the beginning."
****GIVEAWAY****
Thanks to the awesome people at Macmillan, I've got
one
copy of Catherynne M. Valente's
The Boy Who Lost Fairyland
to give away to
one
lucky winner! Giveaway is open to US residents only (sorry international peeps! Keep an eye out for giveaways during FTF!), and will run through the end of the blog tour/publication date of March 3rd! Fill out the Rafflecopter to enter.
Good luck, and make sure to
visit the rest of the stops
on the
Fairyland
blog tour!!
a Rafflecopter giveaway
ABOUT THE BOOK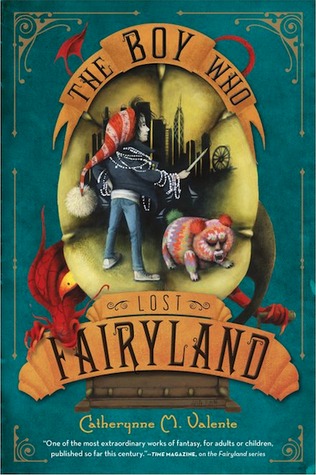 The Boy Who Lost Fairyland
by Catherynne M. Valente
Get It
|
Add It
Fantasy, 256 pages
Expected publication: March 3rd 2015 by Feiwel & Friends
When a young troll named Hawthorn is stolen from Fairyland by the Golden Wind, he becomes a changeling – a human boy -- in the strange city of Chicago, a place no less bizarre and magical than Fairyland when seen through trollish eyes. Left with a human family, Hawthorn struggles with his troll nature and his changeling fate. But when he turns twelve, he stumbles upon a way back home, to a Fairyland much changed from the one he remembers. Hawthorn finds himself at the center of a changeling revolution--until he comes face to face with a beautiful young Scientiste with very big, very red assistant.
Time magazine has praised Catherynne M. Valente's
Fairyland
books as "one of the most extraordinary works of fantasy, for adults or children, published so far this century." In this fourth installment of her saga, Valente 's wisdom and wit will charm readers of all ages.
Catherynne M. Valente
is the author of over a dozen books of fiction and poetry. She lives on an island off the coast of Maine with her husband, two dogs, and an enormous cat. Visit her online at
catherynnemvalente.com
or on Twitter at @catvalente.
Ana Juan
is a world-renowned illustrator best known in this country for her wonderful New Yorker magazine covers. She lives in Spain. Visit her online at
anajuan.net
.