I generally try not to join many challenges, as I like to be able to just pick something up for the pure fun of reading it, and not because it fills a quota. However, if the challenge falls in line with what I'm likely going to read anyway, then why the hell not? Here are 2 such challenges, and I accept!
Lost Romantica - Read 1 Book from 12 themes.
Crushing Romantica - Read 3 Books from 12 themes.
Falling for Romantica - Read 5 Books from 12 themes.
Cannot Pull Away Romantica - Read 6 Books from 12 themes.
Morbid Romantica - Read 9 Books from 12 themes.
The themes are things like zombies, shifters, steampunk, etc, but you can read outside of the themes too. I'm going to give a hesitant Cannot Pull Away (6 books), though in all likelihood, I'll end up at the Morbid level. ;p
Potential books:
The Dead Tossed Waves (since I never got to read it for September Zombies)
River Marked, Patricia Briggs
Heartless, Gail Carriger
You Suck, Christopher Moore
Unearthly, Cynthia Hand
Fallen, Lauren Kate (will be reading this for book club)
Beautiful Creatures, Gracia & Stohl (will go hand-in-hand w/ Southern Lit Challenge)
Firelight, Sophie Jordan
Demon Princess, Michelle Rowen
The second challenge is: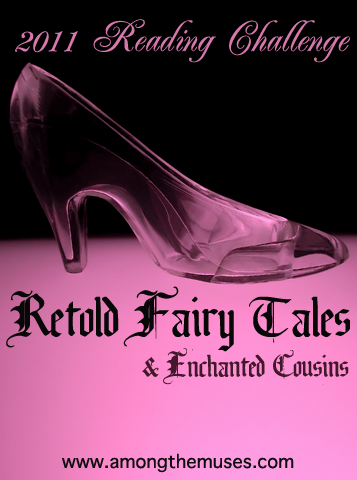 Challenge Objective:
To read stories that have taken classic fairy tales that we all know and love, and have woven them into a new alternative tale that mirrors the original.
Dreamer: 1 -3 retold fairy tale reads
Magical:

4 -6 retold fairy tale reads
Enchanted:

6 -9 retold fairy tale reads
HEA:

9 -12 retold fairy tale reads
I'll go for the Magical level for now, but who knows where I'll end up.
Potential Books:
The Princess and the Hound, Mette Ivie Harrison
Princess of the Mignight Ball, Jessica Day George
Princess of Glass, JDG
Cloaked, Alex Flinn
I, Coriander,Sally Gardner
Once Upon a Marigold, Jean Ferris
I'm mostly going to try to read down my tbr pile with these challenges. Nearly everything listed I own, so I need to work my way through them, and this gives me an excuse. That being said, I am always open to suggestions...
;p