Liz and I were feeling something seasonally appropriate, but not necessarily scary for October (ie dark and atmospheric, yes; blood and guts, possible but not necessary). But we had a lot of options we were eager for, and couldn't quite decide one way or the other, so we put it to a vote and let you guys decide. And you made your decision
loud and clear
, with one of the four books getting
well
over half the votes.
So October's #WednesdayYA book club read is . . .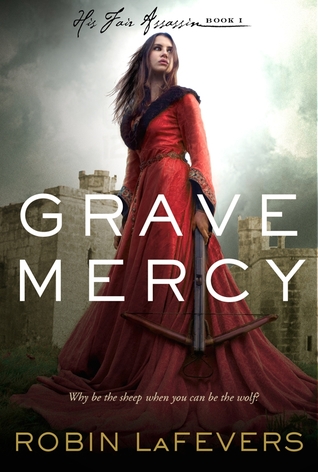 Grave Mercy
by Robin LaFevers
Historical Fantasy, 549 pages
Published April 3rd 2012 by Houghton Mifflin Harcourt
Why be the sheep, when you can be the wolf?

Seventeen-year-old Ismae escapes from the brutality of an arranged marriage into the sanctuary of the convent of St. Mortain, where the sisters still serve the gods of old. Here she learns that the god of Death Himself has blessed her with dangerous gifts—and a violent destiny. If she chooses to stay at the convent, she will be trained as an assassin and serve as a handmaiden to Death. To claim her new life, she must destroy the lives of others.

Ismae's most important assignment takes her straight into the high court of Brittany—where she finds herself woefully under prepared—not only for the deadly games of intrigue and treason, but for the impossible choices she must make. For how can she deliver Death's vengeance upon a target who, against her will, has stolen her heart?
I've been wanting to read this one for awhile, and was a bit disappointed when it didn't win last year's big books
Stack of Five
, after the
awesome excerpt of the beginning
. I know a lot of you love this one, so please feel free to join us (or pick up a copy and read along with us, if you haven't already) as we chat about it throughout the month, and then gather together and discuss it on Twitter on the last Wednesday of the month, October 29th at 8:30 pm EST.