I hope a fair few of you popped around the the 4 stops of the
Exquisite Nights
audiobook tour, because I have to say, I am in love with Erin Mallon's narration of Heather Demetrios'
Exquisite Captive
, and I want as many of you to experience it as possible. In case you missed it,
you can find the first stop (mine)

here
, where you can begin the journey through the firsts four chapters, but for the rest of you, who've already listened and entered to win, I'm sure you want to get right down to business.
And so, the winner of my leg of the #ExquisiteNights tour is...
a Rafflecopter giveaway
CONGRATULATIONS, MELANIE!!
Your audiobook will be in your hands (err, ears...) shortly!
As for the rest of you, don't be
too
bummed that you didn't win — I'll be giving away a finished hardcover of the book in November as part of a HUGE
Exquisite Captive
month-long promo! So definitely keep an eye out for that, as well as my review of the book (and the audio!) next month!
Or, if you just can't bear to wait that long,
Exquisite Captive will be in stores TOMORROW
!
ABOUT THE BOOK: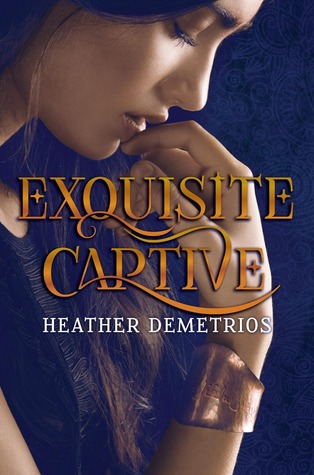 Exquisite Captive
by Heather Demetrios
Get It
|
Add It
Fantasy, 480 pages
Expected publication: October 7th 2014 by Balzer+Bray
Forced to obey her master.
Compelled to help her enemy.
Determined to free herself.

Nalia is a jinni of tremendous ancient power, the only survivor of a coup that killed nearly everyone she loved. Stuffed into a bottle and sold by a slave trader, she's now in hiding on the dark caravan, the lucrative jinni slave trade between Arjinna and Earth, where jinn are forced to grant wishes and obey their human masters' every command. She'd give almost anything to be free of the golden shackles that bind her to Malek, her handsome, cruel master, and his lavish Hollywood lifestyle.

Enter Raif, the enigmatic leader of Arjinna's revolution and Nalia's sworn enemy. He promises to free Nalia from her master so that she can return to her ravaged homeland and free her imprisoned brother—all for an unbearably high price. Nalia's not sure she can trust him, but Raif's her only hope of escape. With her enemies on the hunt, Earth has become more perilous than ever for Nalia. There's just one catch: for Raif's unbinding magic to work, Nalia must gain possession of her bottle…and convince the dangerously persuasive Malek that she truly loves him. Battling a dark past and harboring a terrible secret, Nalia soon realizes her freedom may come at a price too terrible to pay: but how far is she willing to go for it?

Inspired by Arabian Nights, EXQUISITE CAPTIVE brings to life a deliciously seductive world where a wish can be a curse and shadows are sometimes safer than the light.