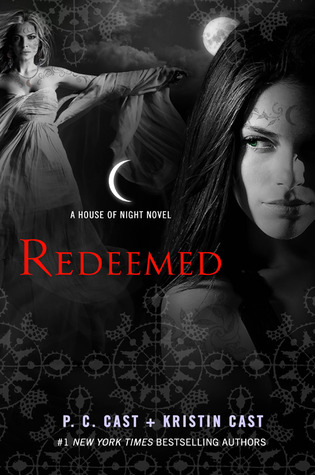 A few years ago, the
House of Night
series swept it's way right through my circle of friends. We read the first book,
Marked
, in our book club, and it seemed that many of the meetings that followed somehow ended with conversations about where everyone was in the storyline, or some
thing
that had happened that those who were still reading the series just
needed
to talk about!
With the series ending, I don't imagine those conversations will last too much longer (except for when noobs join the club, and have the series pressed into their hands...); I know there are a number of you out there who are big fans of the series, too, so I'm happy to share an excerpt of the final book with you today, as well as a chance to win a little something from the HON world!
Click through to read a little bit from
Redeemed
, and then enter to win!
from Redeemed by P.C. Cast and Kristin Cast:
Kalona streaked across the billowing thunderclouds almost in time with the lightning. The storm's winds buffeted him, but Kalona took no heed of it. He had one duty, one responsibility, one edict from his Goddess. He would protect the people in need. No matter the cost, he chose to stand between Neferet and those he had come to value, even to love.
Suddenly, the clouds before him began to boil and change form until Kalona was staring into the glowing eyes of the White Bull. His body was an enormous cloud, his horns dripping with a rain of blood.
Though it has been eons since last we met, you are as predictable now as you were then. The voice blasted through Kalona's mind. What mutually beneficial deal shall we make this time, Kalona?
"None, bull. Last time we met I rejected you in words, but not in my heart, nor in my deeds. Last time we met I allowed your Darkness to feed that which was weak within me and poison my life. This time I am different. This time I reject you in words, in heart, and in deeds."
Really, Son of the Moon? Would you still reject me if I told you I had the power to restore to you everything you lost during the eons you have wandered the mortal realm?
"There is nothing you can give me that would be worth the price."
But you haven't even heard my price. It would be so very little in comparison to that which you have lost…


****GIVEAWAY****
To celebrate the release of the
final
(!)
House of Night
novel, I have one signed copy of a
HON
comic! (Kinda perfect timing, after
graphic novel week
, eh?) I love seeing how novels are adapted to comics, and this storyline, with it's appearing tattoos and what not, seems kinda perfect for that visual approach.
To enter, fill out the Rafflecopter below. US only, ends 10/27/14 at midnight. Good luck!
a Rafflecopter giveaway
ABOUT THE BOOK:
Redeemed
by P.C. & Kristin Cast
Get It
|
Add It
310 pages
Published October 14th 2014 by St. Martin's Griffin
In the final electrifying novel in the HoN series, Neferet has finally made herself known to mortals. A Dark Goddess is loose on Tulsa and the world. No single vampyre is strong enough to vanquish her - unless that creature has the power to summon the elements as well as the ability to wield Old Magick. Only Zoey Redbird is heir to such power…but because of the consequences of using Old Magick, she is unable to help. Find out who will win and who will lose in this epic battle of Light versus Darkness.