Beth has been
a constant fixture this AIA-season
, and for that (and helping save my sanity, on which I have a tenuous grasp once August rolls around), I thank her! She joins us today for one last post, and she's leaving us with a sweet* treat!
*maybe? Only time will tell!
---
Ices and ice cream were popular dishes in Georgian, Regency, and Victorian times, made in fantastic molds (or bombes) for dinner parties and available at confectionary shops. They appear to have ranged in consistency from a sorbetto-like fruit-based "ice slushy" to a gelato-like cream-based frozen custard. The surviving recipes for flavors- and there are quite a few- range from sweet to savory, mundane to bizarre. French and Italian confectioners in London helped to popularize ice cream, so I imagine the exotic flavors offered by them increased appeal.
Among flavors of the era? Hazelnut, elderberry, lemon, currant, bergamot, burnt sugar, elderflower, muscadine, lavender, royal (lemon/orange with a bit of spices and a hint of orange flower), rum, rye bread, and Parmesan. Frederick Nutt, a popular London confectioner, published The Complete Confectioner in 1789, which includes 32 different ice cream recipes. And I'll be honest, 30 of them intrigue me enough to try making at least once.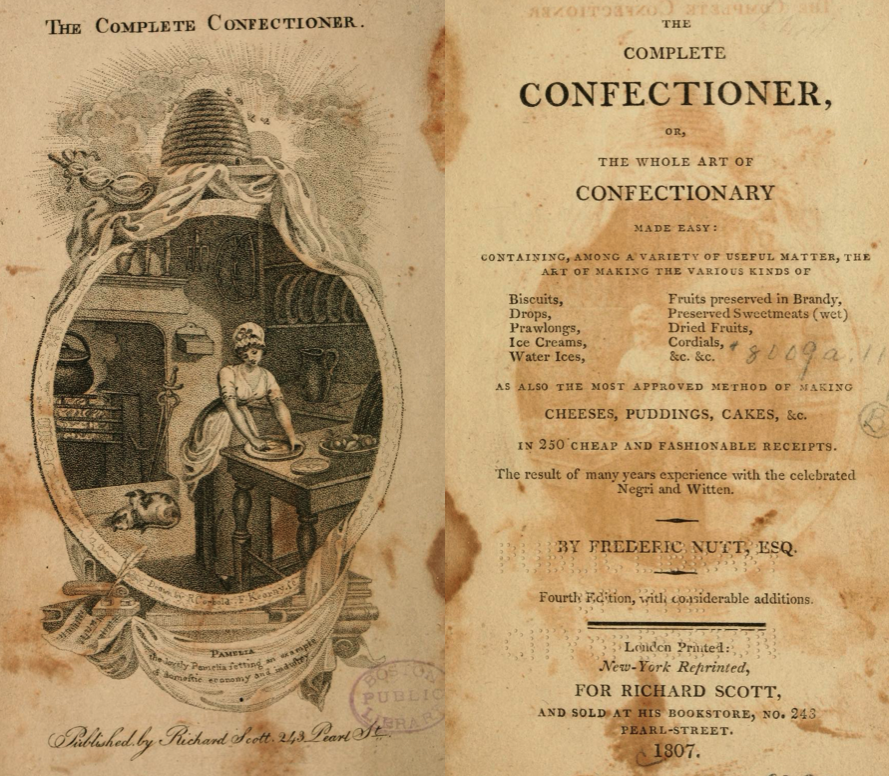 Today, I've decided to try making Parmesan. Nutt's recipe for it looks relatively simple and straightforward, and I'm intrigued by the contrast of a funky savory flavor with the sweetness we'd expect from ice cream.

Ingredients:
1 cup water

2 cups sugar

6 eggs

16 oz. heavy cream

3 oz. grated Parmesan cheese
Make a simple syrup. Because this is a Georgian-era recipe, I went for a 2:1 ratio of sugar to water. Leftovers can be used in cocktails, hot cocoa, or just about anything else.

Still stirring, add the cheese. The texture will change immediately to a curds and whey consistency, then to a thicker porridge consistency.

Remove from heat and let cool.
What does it taste like?
The ice cream tastes like a subtle Parmesan cheesecake. The Parmesan is noticeable, but it hides behind the sweetness rather than fighting it. Overall, it's very rich and I found it delicious!
About the author of this post: I'm Beth: a bookwyrm, history geek, hobby baker, Austen fan, and collector of pastimes. Henry Tilney and Elizabeth Bennet are my Austen fictional crushes, which pretty much tells you everything you need to know about me. I can be found blogging at
https://bethwyrm.blogspot.com/
and creating general nonsense at:
https://www.instagram.com/goddessbeth/
,
https://www.tiktok.com/@artemishi
, and
https://twitter.com/ArtemisHi
.
Find more posts from Beth
here
.