Beth is back today with a look at everyone's favorite modern take on Austen: the 90s classic,
Clueless
! I mean, it
is
everyone's favorite, right? You couldn't possibly love another as much. As if!
---
Adaptation of: Emma
Character Guide:
Emma = Cher

Mr. Knightley = Josh

Harriet Smith = Tai

Mr. Elton = Elton

Frank Churchill = Christian

Robert Martin = Travis

Mr. Woodhouse = Mel Horowitz
Notable Changes:
Rather than the Jane Fairfax secret romance, Christian is gay (props for a rare mid-90's LGBTQIA+ representation!)

There are a few new characters (Dionne, Murray, two teachers that are kind of stand-ins for Miss Taylor and Mr. Weston).

There's no Miss Bates analog.
Thoughts:
Right off, I'm going to admit my bias toward this movie based on the fact that Paul Rudd plays Mr. Knightley. There's a small bit of cringe in some insensitive language, but that aside, it captures a cheeky self-aware silliness about a subculture in a point of time, and uses Emma as the framework in which to do that.
As adaptations go, it hits the major plot points, but less so the minor ones. However, the characters remain true to their original incarnations: Cher is a bit of a snob but she means well and has a maternal streak; Tai is hopelessly out of her depth but starts to believe herself "above her station", which brings her unhappiness; Elton is a social climber with a sleaze; Christian is relentlessly cool; Travis is kind-hearted throughout. Josh is less chastising than Mr. Knightley, but still nails the friends-to-lovers sweet spot.
Now, as oddness goes, my rewatch had me considering the age difference between Cher and Josh. There is one, clearly (milder than in the book, thankfully) and it's never fully stated what that is. But Cher is 16, and Josh is "college-aged"- I really hope that means 18, and not 20, or I'll be squicked out.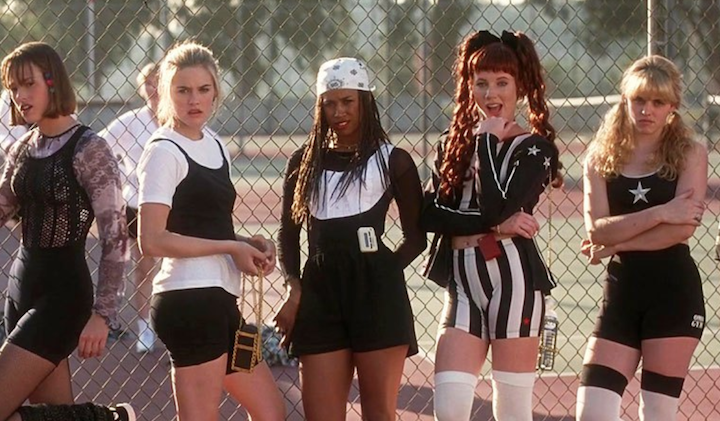 Verdict:
Capturing the classism within the setting of high school popularity, and walking the delicate balance between sweet-MC and obnoxiously wealthy-MC, this mid-90s subculture-set adaptation of Emma is cheeky and approachable. It hits all the broad strokes of the book, with a fun soundtrack and (if you're an Old who grew up in SoCal, like me) a fair side of nostalgia. Worth a watch.
About the author of this post: I'm Beth: a bookwyrm, history geek, hobby baker, Austen fan, and collector of pastimes. Henry Tilney and Elizabeth Bennet are my Austen fictional crushes, which pretty much tells you everything you need to know about me. I can be found blogging at
https://bethwyrm.blogspot.com/
and creating general nonsense at:
https://www.instagram.com/goddessbeth/
,
https://www.tiktok.com/@artemishi
, and
https://twitter.com/ArtemisHi
.
Find more posts from Beth
here
.