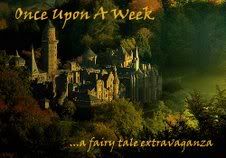 Here are a few fairy tale retellings I've been wanting to get my hands on:

Tender Morsels by Margo Lanagan

Tender Morsels
is a dark and vivid story, set in two worlds and worrying at the border between them. Liga lives modestly in her own personal heaven, a world given to her in exchange for her earthly life. Her two daughters grow up in this soft place, protected from the violence t
hat once harmed their mother. But the real world cannot be denied forever
—magicked men and wild bears break down the borders of Liga's refuge. Now, having known Heaven, how will these three women survive in a world where beauty and brutality lie side by side?
Princess of the Midnight Ball by Jessica Day George
Galen is a young soldier returning from war; Rose is one of
twelve princesses condemned to dance ea
ch night for the King Under Stone. Together Galen and Rose will search for a way to break the curse that forces the princesses to dance at the
midnight balls. All they need is one invisibility cloak, a black wool chain knit with enchanted silver needles, and that most critical ingredient
of all—true love—to conquer their foes in the dark halls below. But malevolent forces are working against them above ground as well, and as crue
l as the King Under Stone has seemed, his wrath is mere irritation compared to the evil that awaits Galen and Rose in the brighter world above. Captivating from start to finis
h, Jessica Day George's take on the Grimms' tale
The Twelve Dancing Princesses
demonstrates yet again her mastery at spinning something entirely fresh out of a story you thought you knew.
Enna Burning by Shannon Hale (sequel to The Goose Girl)
Enna and Princess Isi became fast friends in The Goose Girl, but after Isi married Prince Geric, Enna returned to the forest. Enna's simple life changes forever when she learns to wield fire
and burn anything at will. Enna is convinced that she can use her ability for good--to fight Tira, the kingdom threatening the Bayern borders--and goes on secret raids to set fire to the Tiran camps and villages. But as the power of the fire grows stronger, she is less able to control her need to burn. In her recklessness she is captured by the Tiran army and held captive by a handsome, manipulative young captain who drugs her to keep her under his influence. Can Isi and her old friends Finn and Razo rescue her without sacrificing themselves? And with the fire still consuming her, will Enna find a way to manage the gift that threatens to destroy her?