Hey, internet family! Wanted to let you know I am participating in a lovely little thing this week called
Once Upon a Week
, which is a week chock full of fab fairytaleness, hosted by
Today's Adventure
.
As I am slightly fairy tale obsessed, I had to join in. Of course. Because I don't have enough to do, right?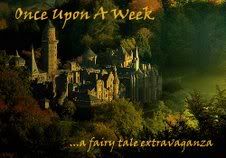 Anywho, there is a full week of things planned, all of which I am going to (try to) participate in.
Monday
*: I'm kicking the week off right with a review of Ash and an interview with author Malinda Lo!!!
Wednesday
: WoW The Fairy Tale edition
Thursday
: Fairy Tale meme, where people will be doing some fun things (I will try my best on this one, but time is a factor)
Friday
: review -- I want your input on my final review. I haven't decided whether to share my thoughts on:
Another retold fairy tale like:

The Goose Girl
by Shannon Hale
Deerskin
by Robin McKinley
Singer
by Jean Thesman
A Curse Dark as Gold
by Elizabeth C. Bunce
Cinderellis and the Glass Hill
by Gail Carson Levine
Daughter of the Forest
by Juliet Marillier
or something with a fairy tale feel, that is not a retold tale, like:
Holly Black's
Modern Tales of Faerie
series
Wicked Lovely
or, I may review some short story retellings, like those found in

Silver Birch, Blood Moon
So what would you guys like to see? Keep in mind, I may still pick something different, or I may even revive an old ft review, but I want to know what catches
your
eye. Remember, too, that whatever I review goes into the possible prize bucket for the
100 followers contest
, where the winner gets to choose any book I've reviewed for their very own self. So
Let. Me. Know.
*review (a linky will be posted at
Today's Adventure
, so you might want to stop by there through out the week to check out some great reviews)