It's not every day you get to interview a character of a book. And it's
certainly
not every day that said character is, well... sorta, maybe, a little bit dead. But today — today is one of those days.
Fellow Michigander Bethany Neal has stopped by to play medium for us, so that we can ask a few questions of Cassidy Haines, leading lady of
My Last Kiss
. So get out your ouija boards, prepare for some table-shakin', and let's get to know a bit about Cassidy, and what
life
, err...
things
are like for her now...
And make sure to enter to win a copy of Cassidy's story at the end of this post, and stop back later for my thoughts!
Misty:
First, I want to thank Cassidy for being here, and Bethany for facilitating this chat. Thanks, ladies!
Bethany shakes her head at the empty chair to her left.
Bethany
: She's just being polite, Cass.
Bethany looks at Misty.
Bethany
: Sorry. Cassidy got really excited when she thought you could see her.
Bethany pats the air above the arm of ghost-Cassidy's chair to comfort her.
Misty mouths "Sorry" to Bethany.
Bethany waves a nonchalant hand.
Bethany
: Happens all the time. I'll be translating for Cassidy from now on though, so feel free to start in on your questions for her.
Misty:
Now, Cassidy...this is a bit awkward, but let's just come out with it: You're dead. I'd imagine that was startling... Care to tell us about your first thoughts on/experiences of/reactions to not being alive?
Cassidy
: My very first thought was that I couldn't possibly be myself. I felt so, I don't know, different and I was in so much incredible pain that being awake and experiencing everything in the river that morning just could not be real in my life. I don't know who—or what I thought I'd turned into, but I was convinced it wasn't me. I still have trouble grasping my…existence.
Misty:
The events leading up to your death are hazy for you - tell us a bit about what it's like to try to investigate your own death.
Cassidy:
Well, I don't recommend it. I mean, even when you solve the case, nobody wins. It's like when you spend three hours looking for your sunglasses and they've been on top of your head the entire time. You can't even be relieved when you find out because you feel so epically frustrated and embarrassed for not seeing something so obvious for so long.
Misty:
What has been the most unexpected part of this whole thing? The hardest to deal with? The most surprisingly easy?
Cassidy
: The answer to all of those questions is Ethan.
Bethany
(to Cassidy)
: To be honest though, isn't Ethan the answer to every question for you. After all, he is the reason you came back.
Cassidy shuffles her feet into first position then runs through all of the ballet stances up to fifth. Cassidy: Can we talk about something else for awhile?
Misty flips through her interview questions, looking for a more neutral topic.
Misty:
It took some time for you to learn the ropes, but you eventually figured out how to "ghost" - could you tell us what ghosting is like? Are there things you wish you could do or have more control over? Are there things you can do that you didn't expect to be able to do?
Cassidy
: The number one thing I wish I could do, hands down, is touch people. Even if they couldn't see or hear me, I'd give anything to be able to hug my little sister again. All the "ghosting" stuff used to be really embarrassing for me actually—mostly because it's a constant reminder of how unhuman I am—but I'm really starting to embrace it.
Bethany
(to Cassidy)
: That's only because you can get away with pretty much anything now.
Cassidy smiles sheepishly.
Cassidy
: It's true. You wouldn't believe how much I've seen since I died that I never would have been privy to.
Misty
: Like…?
Cassidy
: Two words: Backstage access. You would be shocked by what happens backstage at a Taylor Swift concert! But none of the invisibility perks are really any fun for me because I'm usually by my lonesome for cool stuff like that.
Bethany
(to Cassidy)
: What about sweet the physical perks?
Cassidy
: There aren't many, but I am sorta addicted to the cool smooth sensation that radiates off my iridescent skin. It feels like my entire body has been lathered in shimmery Icy Hot—and that's as awesome as it sounds. Maybe even more. It's also a huge rush when I ghost-a-port (that's teleporting ghost-style) someplace now that I know how to control it. It feels like that moment at the bottom of the first drop on a roller coast when you think you might go flying out of your seat, but then gravity kicks in when the car changes direction and grounds you back to Earth. It's pretty exhilarating.
Misty:
If you could spend one last day as a fully-fleshed, living girl, what would your last day consist of? Give us Cassidy's In-Retrospect Bucket List:
Cassidy:
Go ice skating with my sister.
Go to County Dairy and share a Colossal Banana Split sundae with Aimee.
Tell my mom and dad that I think they're stupid for getting a divorce, but I still love them. Always.
Write notes to all my friends (even the ones that turned out to be frenemies) telling them what was my favorite moment we shared.
Watch the sun rise with Ethan.
Bethany waggles her eyebrows at this.
Bethany
(to Cassidy)
: Does that imply "staying up all night" with him too?
Cassidy says something that makes Bethany laugh.
Bethany
: That wasn't a no…
Silence follows, and Misty assumes Cassidy is refusing to comment further.
Misty:
clears throat
Um, moving on... If you could hang out and have ghost time with any other person who has ever lived, who would you hang out with, and what would your ghost selves do?
Bethany
(to Misty)
: Cassidy is super excited about this one!
Cassidy
: This is crazy hard to pick just one, but I think I'd pick Marie Antoinette. She's always fascinated me because she seems so misunderstood. There are all these rumors about her and the "let them eat cake" thing that can't possibly be true. I'm curious to hear her side of the story.
Misty:
Yeah, I'm curious what she'd have to say for herself, too. Speaking of having things to say for yourself, has it been hard giving up the reins and letting Bethany tell your story?
Bethany
(to Misty)
: I think I did a pretty good job of being—
Bethany stops, nods, says she's sorry to the air to her left.
Bethany
: Cassidy says I was very truthful and fair in my telling, but she wishes I'd asked her permission before I published the book.
Bethany's face turns red.
Bethany
(to Cassidy)
: We agreed you weren't mad at me about that anymore.
Cassidy says something that clearly frustrates Bethany, but the author doesn't translate.
Misty
: This is your chance to set the record straight, Cassidy. Is there anything that didn't get told that you want us to know, or anything (embarrassing or awkward tidbits, say...) that you wish you could take back and keep private?
Cassidy
: I wish the whole "suicide note" thing had been left out. That's the kind of thing that even when you prove it wrong, people still wonder. It's out there forever as a possibility. I'll always have that stigma: Cassidy Haines, the girl who jumped off a bridge when her boyfriend dumped her.
Bethany
: Nobody who reads the book will think that.
Cassidy
: Then everybody in the frickin' world needs to read this book!
Bethany grins.
Bethany
: Out of respect for the dead,
I think everyone needs to honor that request and buy MY LAST KISS.
Bethany frowns at the empty chair to her left.
Bethany
(to Cassidy)
: It's not a shameless plug if you told me to say it. Misty, do you think it was shameless of me to tell everyone to buy my book to honor Cassidy?
Cue awkward silence…
When Bethany starts squirming, Misty winks in what she thinks is Cassidy's general direction (she's totally wrong, btw.)
Misty:
When you look back at your life, is there anything you've said or done that you wish you could take back or do differently, or is it all water under the bri- sorry, that was in poor taste. Is it all just said and done and not worth spending your afterlife worrying about?
Cassidy
: It's impossible for me not to play the What if? game. I don't necessarily regret the things I did—I've moved past that hamster wheel of counter-productivity—but I do wonder, every day, whether or not I'd still be living my normal life if I'd made just one different decision. The thing about that is though, there's no way of knowing which wrong choice was the big bad one that doomed me to a fate left floating in the river.
A long silence passes. Bethany leans toward Misty.
Bethany
: I think we should wrap this up.
Misty:
Might be a good call. Any last things you want to say, either to us who are following your story, or to those who lived it with you?
Bethany
: Cassidy is gone.
Misty
: Gone??
Bethany
: Yeah, she closed her eyes and mumbled something about meeting Ethan on the covered bridge. *
shrugs
* She does that a lot.
****GIVEAWAY****
To celebrate the release of
My Last Kiss
, there is an awesome prize pack up for grabs, including a signed hardback of My Last Kiss & a swag pack, featuring a MLK Button, MLK Notebook, & Cassidy's watermelon lip gloss! US/CAN Only. Must be 13 or older to enter. Giveaway ends JUNE 11th, and winner will be notified via email and needs to answer in 48 hours letting us know if he/she accepts the prize.Personal information is not stored or sold. Fill out the Rafflecopter below to enter. Good luck!
And make sure to check out the rest of the stops on the tour!
a Rafflecopter giveaway
ABOUT THE BOOK: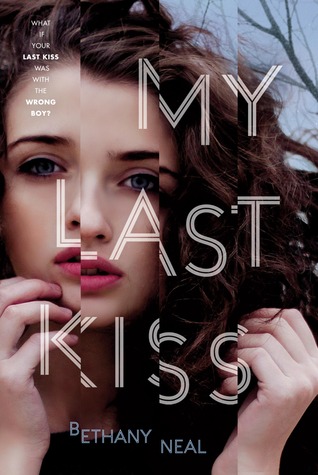 My Last Kiss
by Bethany Neal
Get It
|
Add It
Contemporary, Mystery 358 pages
Expected publication: June 10th 2014 by Farrar, Straus and Giroux
What if your last kiss was with the wrong boy?

Cassidy Haines remembers her first kiss vividly. It was on the old covered bridge the summer before her freshman year with her boyfriend of three years, Ethan Keys. But her last kiss--the one she shared with someone at her seventeenth birthday party the night she died--is a blur. Cassidy is trapped in the living world, not only mourning the loss of her human body, but left with the grim suspicion that her untimely death wasn't a suicide as everyone assumes. She can't remember anything from the weeks leading up to her birthday and she's worried that she may have betrayed her boyfriend.

If Cassidy is to uncover the truth about that fateful night and make amends with the only boy she'll ever love, she must face her past and all the decisions she made--good and bad--that led to her last kiss.

Bethany Neal's suspenseful debut novel is about the power of first love and the haunting lies that threaten to tear it apart.
ABOUT THE AUTHOR:
Bethany Neal writes young-adult novels with a little dark side and a lot of kissing from her Ann Arbor, Michigan home. She is obsessed with (but not limited to): nail polish, ginormous rings, pigs, pickles, and dessert.
You can find her locked in her Writertorium for insane amounts of time. But, hey, insanity is fun! My Last Kiss is her first novel.
Find Bethany on: