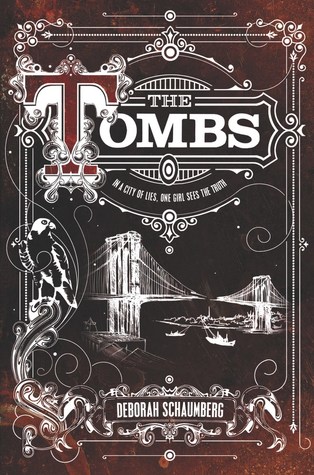 THE TOMBS
by Deborah Schaumber
Historical / Adventure / Fantasy, 448 pages
Published February 20th 2018 by HarperTeen
Gangs of New York meets Cassandra Clare in this debut YA fantasy set in 1882 Brooklyn

New York, 1882. A dark, forbidding city, and no place for a girl with unexplainable powers.

Sixteen-year-old Avery Kohl pines for the life she had before her mother was taken. She fears the mysterious men in crow masks who locked her mother in the Tombs asylum for being able to see what others couldn't. Avery denies the signs in herself, focusing instead on her shifts at the ironworks factory and keeping her inventor father out of trouble. Other than secondhand tales of adventure from her best friend, Khan, an ex-slave, and caring for her falcon, Seraphine, Avery spends her days struggling to survive.

Like her mother's, Avery's powers refuse to be contained. When she causes a bizarre explosion at the factory, she has no choice but to run from her lies, straight into the darkest corners of the city. Avery must embrace her abilities and learn to wield their power—or join her mother in the cavernous horrors of the Tombs. And the Tombs has secrets of its own: strange experiments are being performed on "patients"…and no one knows why.
I'm so torn on this book, and I feel like it's been a common refrain for things I've read this year:
I liked it, but...
The Tombs
definitely had some things working for it, that I think will draw a lot of readers in. It's got a strong female protagonist, a bit of a steampunk-ish take on turn-of-the-century New York; there's action, there's romance. . . it will certainly win some people over. And though I pretty much enjoyed it throughout, there were always some things (a number of things, really) that were holding me back from loving it.
In some ways,
The Tombs
very much feels like the debut that it is. I feel like this is another common thread to my reading -- and reviewing this year -- and it's one that always makes me feel a little douchey, but the writing felt a bit immature. Now, I don't mean that it felt like it was written by a high schooler (which is what I sometimes mean when I say this), but that it feels underdeveloped -- it feels like rookie writing. That's not necessarily a horrible thing (Schaumber
is
a rookie, and this
is
a debut), but there can be a tendency with newer writers to feel the need to overdo things that don't need it, and underdo things that
do
. There is A LOT going on in
The Tombs
, and though it eventually all works together, for much of the book, it felt like there were just a lot of unnecessary side plots distracting from the main purpose. And even the fact that they
do
eventually come together into one cohesive whole only serves to demonstrate how easy and convenient things tend to play out throughout the novel. It's like an extended Deus Ex Machina on a teeny, tiny scale; a tiny god from the machine, swooping in every few pages to drop a breadcrumb, to lead Avery on the right path. [Seriously, there is no detail too small for this Tiny God to bend himself to; nothing is beneath his tiny notice.]
Avery has people on all sides of her that manage to swoop in at just the right time, or know just the right piece of information, or have in their possession -- at just the right moment! -- just the right thing to get her through to the next phase of her mission. Though bad things do happen to those around her, those that try to help her, there's never any real fear that this collateral damage will take down Avery herself (the Tiny God would never allow it), and so a lot of the tension that is otherwise built up gets dissipated fairly quickly and without much fuss. That overall convenience and broken tension, a
distinct
heavyhandedness (in plot, in place, especially in villainy)
and
a slight tendency toward telling vs. showing, led to a general sense of "debutness" in
The Tombs
.
There is one other major aspect that I am on the fence about, but I'm not going to go into too much, because I feel like other reviews have covered it pretty well: race. Schaumberg approaches her main character from a very modern sensibility (often Avery, and the other characters, don't sound the least bit like they're out of turn-of-the-century
anything
, unless that century is this most recent one), so Avery herself is very pro-black, pro-Gypsy (a word that is used throughout the book, and is explained/excused in an author note at the end; make of it what you will, people have vastly differing opinions on its use as a slur), and relatively modern in her thinking and speech. But there's no ignoring the fact that characters like Khan (and ex-slave) would have faced a VERY different world than Avery, and though racism is casually touched on, there's no real weight behind it. Perhaps Schaumberg didn't want to derail her story into this arena, and perhaps she wanted to set up an alternate reality where it could kind of be ignored; I don't know. And I do think you have every right as an author to choose which aspects of a place/time/story you want to highlight, and which to push back -- just as readers have the right to then question those choices. So I think there will be some who will be very bothered by use of the word Gypsy, or Khan as essentially a
Magical Negro
, etc., and as a result, may not be able to enjoy any other aspect of the story; some, I'm sure, will just take it at face value and go with it, and at the end of the day, it may just depend on who you are as a reader, and the type of mood you're in. As with most things about this book, I'm on the fence, but think it bears mentioning.
All of that said, and I know it seems like a lot of points against it, and relatively few in its favor, I mostly enjoyed
The Tombs
and think Schaumberg has skills that are worth exploring. I read the book very quickly, in great large swathes, not just because it was quick but because (in the beginning, especially) I was enjoying it. I think it will find more eager -- and less judgemental -- readers in its intended age range, who maybe won't mind any of the many things that, though small, when taken together can overwhelm a story and a reader's enjoyment of it.
---
Disclosure: a finished copy of this book was sent to me for review consideration purposes. All thoughts and opinions are honest and my own, and as this book was a finished version and not an ARC, I feel confident in discussing the things I did, without concern that they're going to be changed before it hits shelves (by the time this goes up, it'll be out).