I am having a serious love affair with audiobooks lately.
Recommend me your favorites in the comments!!
The bonus review mentioned at the end of the video can be found
here
.
Reviews start at:
The Last Namsara: 0:38
Fiendish: 6:58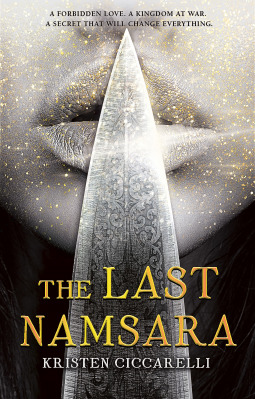 about
THE LAST NAMSARA
by Kristen Ciccarelli
:
Print
|
Audio
432 pages, Published October 3rd 2017 by HarperTeen
audio narrated by Pearl Mackie
In the beginning, there was the Namsara: the child of sky and spirit, who carried love and laughter wherever he went. But where there is light, there must be darkness—and so there was also the Iskari. The child of blood and moonlight. The destroyer. The death-bringer.

These are the legends that Asha, daughter of the king of Firgaard, has grown up learning in hushed whispers, drawn to the forbidden figures of the past. But it isn't until she becomes the fiercest, most feared dragon slayer in the land that she takes on the role of the next Iskari—a lonely destiny that leaves her feeling more like a weapon than a girl.

Asha conquers each dragon and brings its head to the king, but no kill can free her from the shackles that await at home: her betrothal to the cruel commandant, a man who holds the truth about her nature in his palm. When she's offered the chance to gain her freedom in exchange for the life of the most powerful dragon in Firgaard, she finds that there may be more truth to the ancient stories than she ever could have expected. With the help of a secret friend—a slave boy from her betrothed's household—Asha must shed the layers of her Iskari bondage and open her heart to love, light, and a truth that has been kept from her.
about
FIENDISH
by Brenna Yovanoff:
Print
|
Audio
341 pages, Published August 14th 2014 by Razorbill
audio narrated by Carla Mercer-Meyer
Clementine DeVore spent ten years trapped in a cellar, pinned down by willow roots, silenced and forgotten.

Now she's out and determined to uncover who put her in that cellar and why.

When Clementine was a child, dangerous and inexplicable things started happening in New South Bend. The townsfolk blamed the fiendish people out in the Willows and burned their homes to the ground. But magic kept Clementine alive, walled up in the cellar for ten years, until a boy named Fisher sets her free. Back in the world, Clementine sets out to discover what happened all those years ago. But the truth gets muddled in her dangerous attraction to Fisher, the politics of New South Bend, and the Hollow, a fickle and terrifying place that seems increasingly temperamental ever since Clementine reemerged.