And with 2 HIGHLY anticipated books, First Impressions Week comes to an end. Thank you all for tuning in this week (ish), I hope you discovered at least one upcoming book to be excited about! Looking forward to chatting about these two winners in the comments.
Thanks for watching!
All of the #FIW videos:
Vassa in the Night
Falling Over Sideways
Frost
Interference
Crow Mountain
The Forgetting
In Case You Missed It
Heartless
Crooked Kingdom
+ More
excerpts
+ More
First Impressions and reviews
ABOUT THE BOOKS: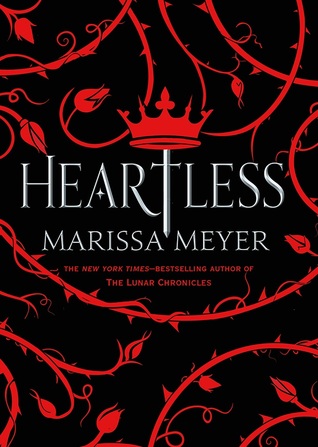 HEARTLESS
by Marissa Meyer
Get It
|
Add It
464 pages
Expected publication: November 8th 2016 by Feiwel and Friends
Long before she was the terror of Wonderland — the infamous Queen of Hearts — she was just a girl who wanted to fall in love.

Catherine may be one of the most desired girls in Wonderland, and a favorite of the yet-unmarried King of Hearts, but her interests lie elsewhere. A talented baker, all she wants is to open a shop with her best friend and supply the Kingdom of Hearts with delectable pastries and confections. But according to her mother, such a goal is unthinkable for the young woman who could be the next Queen.

At a royal ball where Cath is expected to receive the king's marriage proposal, she meets Jest, the handsome and mysterious court joker. For the first time, she feels the pull of true attraction. At the risk of offending the King and infuriating her parents, she and Jest enter into an intense, secret courtship.

Cath is determined to define her own destiny and fall in love on her terms. But in a land thriving with magic, madness, and monsters, fate has other plans.
---
CROOKED KINGDOM
by Leigh Bardugo
Get It
|
Add It
448 pages
Expected publication: September 27th 2016 by Orion Children's Books
Kaz Brekker and his crew have just pulled off a heist so daring even they didn't think they'd survive. But instead of divvying up a fat reward, they're right back to fighting for their lives. Double-crossed and left crippled by the kidnapping of a valuable team member, the crew is low on resources, allies, and hope. As powerful forces from around the world descend on Ketterdam to root out the secrets of the dangerous drug known as jurda parem, old rivals and new enemies emerge to challenge Kaz's cunning and test the team's fragile loyalties. A war will be waged on the city's dark and twisting streets―a battle for revenge and redemption that will decide the fate of magic in the Grisha world.
---
Disclaimer: This is NOT a sponsored video, though these books were sent to me for review consideration purposes. All excerpts shared are copyright the respective authors, and were shared for review and promotional reasons only. Excerpts are subject to change, as this is an advance version of the book, and thus not final -- so grab a copy and check it out for yourself when they're released!