I promised you last week,
in my (*cough*awesome*cough*) interview with Rachel Hartman
, that I'd be
finally
sharing my thoughts on Shadow Scale with you. I mean, it's not like I haven't been telling you for months that I love this book/series/world/author, so I guess what I really mean by finally is that I'm FINALLY going to tell you
why
.
So check out all the whys below, and then enter to win a copy for yourself! Or, if you can't wait,
Shadow Scale
hits stores TODAY!!
. . . alright, so now comes the difficult bit of trying to actually put into words how I felt about this book. I've talked before about how it can be much harder to review something when you like it; if you hate a thing, you can probably go on for quite some time about all of the many, many reasons that you want that thing to experience a fate worse than death. But when you like, or even love a thing, it can be hard to capture why — at some point, you normally just devolve into some weird Gollum-like creature, tenderly petting it and calling it your preciousss.
I feel that way with Seraphina (the character),
Seraphina
(the book), the ityasaari (half-dragons), and the entire world of Gorredd. They turn me into Gollum, hunched over the pretty, pretty preciousss, my hair floating in greasy, whispy bits about my face... But where Gollum wants to keep his preciousss all to himself, I want the world to know my preciousss. I want to press it into the unsuspecting hands of passersby. (But, you know, their
own
copies of the preciousss.
Not mine
.) I love this world and its characters so much that I couldn't even be mad about the looong wait for
Shadow Scale
(lie), because I knew the extra time meant it was being done right, and that I was going to get to see more of the Gorredd and the Seraphina that I've grown to love.*
But in
Shadow Scale
, I'm actually getting more than that. This isn't just
Seraphina
retold —
Seraphina II: 2 Fast, 2 Fire-breathing
— and it doesn't just concern court intrigue in the heart of Lavondaville;
Shadow Scale
is Seraphina's journey throughout the kingdoms of the Southlands, to find the half-dragons that have populated her mind since her childhood. And in the process of discovering just who these ityasaari, her childhood grotesques, really are, Seraphina also discovers herself. There's a lot of growing up for Seraphina, and realizing that these people she has a connection to are so much more than the little boxes she's kept them in in her head all these years — and that she's also been keeping herself in a box, afraid of her heritage and talents and power, to the point that she's closed off a huge chunk of what makes her
her
.
Shadow Scale
is Seraphina's coming of age story without the saccharine connotations that the phrase normally implies. Seraphina's still smart, strong and compassionate, but she realizes how much more she can be, how much more she can give, and perhaps most importantly, how much more she has to learn.
And one of the joys of the book is that we get to learn that with her. We get to see what life is like in the neighboring kingdoms of Ninys, Samsam and Porphyry; how ityasaari are viewed and what kinds of lives they're able to make for themselves; how big the world is and how much of it is still out there, waiting to be discovered. There is a truly impressive level of clarity in the locations and characters — in what could easily become an unwieldy cast in less capable hands remains distinct and memorable in Hartman's. I'm not sure whether this is because we've had time with Seraphina's garden of the grotesques to familiarize ourselves with the other ityaasari, or because she's just that damn talented, but I'm putting my money on the latter. Like Seraphina, I loved exploring these new worlds and experiencing their cultures, and seeing the ityasaari come to life, free of the constraints Seraphina (and sometimes, the rest of the world) have put upon them.
And as with the first book, I very,
very
much enjoyed the intelligence and feeling with which it was all laid out. Hartman is very skilled at creating a world that feels real to me; that has characters that interact in authentic ways, and who are dynamic enough that you can picture their backstories, their reactions to things, their wants and fears — I enjoy a world that I can continue to build upon in my head, because the foundation is so solid that I feel I know its characters and likely outcomes. This is built by having a story that is itself dynamic, that has its sorrows along with its joys, its harsh realities and heartbreaking realizations along with its unexpected boons and laughs and loves.
Shadow Scale
feels like a complete reading experience, its world a complete world, and its ending a fulfilling and satisfying one.
If you haven't picked up this series yet, then (why are you reading a review of book 2?!) I would suggest you do so soon. (Like maybe now, while
the first book is on sale
!)
And if you have read it and can't get enough of Gorredd, then you should try to track down Hartman's Gorreddi graphic novels (
Amy Unbounded
-- I'd say I'd lend you mine, but...that'd be a lie.
my precioussss
), AND you should maybe read
my interview with Rachel
for some great Gorreddi news! =D
*I say I've "grown to love" them, but really, I loved them from the start.
****GIVEAWAY****
Thanks to the awesome, amazing folks at Random House, I have one copy of
Shadow Scale
to offer up to one lucky reader!
This giveaway is US only, and ends March 17th at 11:59pm EST. Fill out the Rafflecopter below to enter. Good luck!
a Rafflecopter giveaway
ABOUT THE BOOK: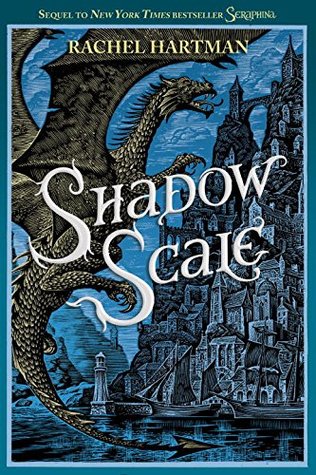 Shadow Scale
by Rachel Hartman
Get It
|
Add It
Fantasy, 608 pages
Expected publication: March 10th 2015 by Random House Children's Books
Seraphina took the literary world by storm with 8 starred reviews and numerous "Best of" lists. At last, her eagerly awaited sequel has arrived—and with it comes an epic battle between humans and dragons.
The kingdom of Goredd: a world where humans and dragons share life with an uneasy balance, and those few who are both human and dragon must hide the truth. Seraphina is one of these, part girl, part dragon, who is reluctantly drawn into the politics of her world. When war breaks out between the dragons and humans, she must travel the lands to find those like herself—for she has an inexplicable connection to all of them, and together they will be able to fight the dragons in powerful, magical ways.
As Seraphina gathers this motley crew, she is pursued by humans who want to stop her. But the most terrifying is another half dragon, who can creep into people's minds and take them over. Until now, Seraphina has kept her mind safe from intruders, but that also means she's held back her own gift. It is time to make a choice: Cling to the safety of her old life, or embrace a powerful new destiny?
About the Author:
As a child, RACHEL HARTMAN played cello, lip-synched Mozart operas with her sisters, and fostered the deep love of music that inspired much of her award-winning debut novel, SERAPHINA. Born in Kentucky, Rachel has lived in Philadelphia, Chicago, St. Louis, England, and Japan. She now lives with her family in Vancouver, Canada. A New York Times bestseller, Seraphina won the William C. Morris Award, received eight starred reviews, and was named to multiple "best of" lists. To learn more, please visit SeraphinaBooks.com or RachelHartmanBooks.com.