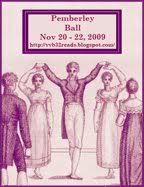 November 20-22, 2009

3-day party
event postings will be up each day
from 6pm - 8pm PST
(you're welcome to participate when you can)


Misté , la Marquessa
Bonjour! Je m'appelle Misté. Oh, pardon. Where are my manners. I should speak in the Anglais, oui? My name is Misté, but you will call me The Marquessa, s'il vous plait. I am visiting my rich friend, Monsieur Darcy and his new wife, Elizabét.
Is not this gown lovely on my maid? I hired her specifically for the fitting of my gowns. It is too tiring. Of course it will look far more fetching on me when I wear it to the Darcy's ball. It will contrast so much darling with my hair brown and my eyes green, do not you think?
Pray, what are you wearing for the Darcy's grand fete? You will not forget to RSVP, of course...
My Monsieur Darcy. Il est trés beau, nôn?
(from
Pride and Prejudice
, 1995)