Zombie Week
is off and running (for those of you who don't know, go check it out), and though I was hoping
The Forest of Hands and Teeth
would get to me soon enough to participate, it doesn't look like that's going to happen. I do have
Pride and Prejudice and Zombies
waiting to be read on top of my TV. (That is, it's on top of my TV waiting to be read, not it's waiting for me to read it while sitting on top of my TV. Because that would be just weird.) But I don't know if I'm in the mood for Regency Zombies. *gasp* I know, I can't believe I said it either, but it's true.
Anyway, to occupy some zombie time, here are some fun ghoulish things to take a look at:
Win a copy of World War Z: Velvet vvb32reads is hosting a zombie giveaway. Calculate the amount of time you'd last, and you're entered to win

Here's mine: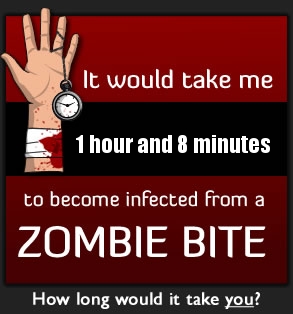 She's also having a Zombie Haiku Challenge, the coolest thing since sliced bread...um, sauteed brains. So go get your creative on.
Zombies on the Brain: check out the zombie downlow @ Zombies on the Web, and find links to papers on zombies, a delineation of zombie types and a cool dinoaurs-zombie cartoon.
Or just sit back and accept the fact that they're coming for you: